Merry Christmas!
Warning! Picture heavy post ahead!
My father has many talents, but one he's practicing every December is to think out and build a ginger bread house for my children. This year we got a small cottage, complete with Afghan hound in the front yard. The horse must be a borrowed one, since such one doesn't belong to our household (at least not yet ;-). There are five Tomten in the front yard, and one watching out in the back yard. The house is filled with chocolate truffles, and has a window with Jugend glass imitation and light.
Look at the watching Tomte! Must be the Father in the family, always covering the back of his family.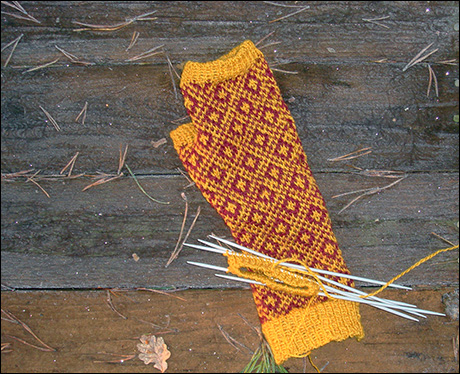 Knitting progress to be reported: The first Endpaper mitt is finished, complete with ends woven in, but not yet blocked. The second is started, and is in fact at the thumb gusset right now. I took these pictures yesterday, and got some knitting time in the evening while we were playing Monopoly and eating Christmas candy. My daughter got very interested in them, and is asking for a smaller version. Endpaper mitts number two might be on the needles in the beginning of next year.
The friendship shawl has advanced to bud row number fifteen, but you know, unblocked lace isn't that photogenic, so you have to trust me. No picture evidence will follow.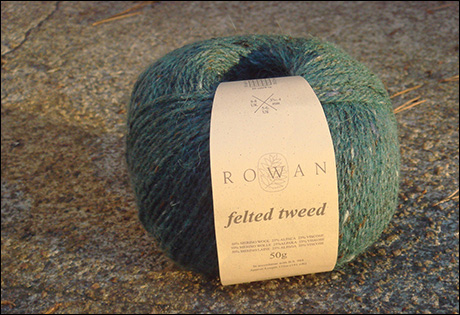 And some new yarn arrived in the mail: Rowan Felted Tweed in the colour Watery. Eight balls, to be transformed into the Tangled Yoke Cardigan.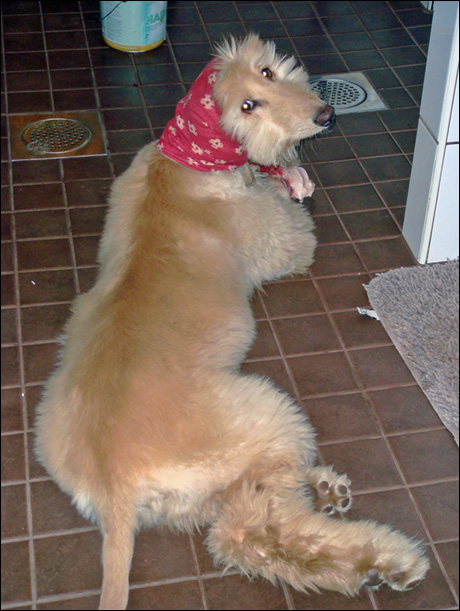 Ludde, five months old, sends his greetings! *
And to all friends out there in the world that celebrates: Merry Christmas!
*The "hat" Ludde is wearing is for protecting his ear hairs from being gnawed on when he's eating.