Tangled Yoke progress and New Year's knitting goal
So, how has the New Year begun for you all? Everything all right, I hope? Lots of laughter and joy? Good!
The weather is cleaing up here. I read in the paper today that the Helsinki area had got 20 hours of sun in December. No wornder it felt like it was always grey and cloudy, eternal November weather, and never weather for taking pictures, neither inside nor outside! Today we've had sun and about 5 C degrees minus, refreshing, and oh so bright! A little bit of snow wouldn't hurt, but this is all right too.
I have had a pretty hectic schedule today, but managed to take a couple of pictures of the Tangled Yoke body before sundown. I haven't forgotten the pictures of the finished Enpaper mitts, but had no time for them today.
I have reached the increases in the body part; in fact I have made about half of them already. Rowan Felted Tweed is lovely, and the gauge is still right. I tend to go to loose with metallic needles and Felted tweed, and do nowadays always choose bamboos for that yarn. It's a bit slow in the beginning, but you get used to the different rhythm pretty fast. I'm very much in love with this project, and have interrupted my knitting only for working on Ludde's web pages. This is the first time I'm doing all the coding myself, not working from a blog program and tweaking that premade setup. Quite exciting, I must admit! I'll give the addy as soon as the pages are in better shape.

As for New Years promises, I haven't made any, but I have a goal for this year: to knit all the designs Eunny Jang has made before 2008 (I'm sure she'll publish more this year, but I'll consider them as they appear). Eunny has so far eleven published designs, of which I have made/I'm making seven: finished are the Deep V Argyle vest, Venezia sweater, Anemoi mittens, Enpaper mitts, Bayerische socks, wips are Tangled Yoke Cardigan and PrintO'the Wave stole. What I have left are the Entrelac socks, Chucks cabled socks, Autumn Rose sweater and the Ivy League vest. Two stranded works, two pair of socks. I don't have schedule for it yet, but this is the plan.
I hope to be back this weekend with pictures of the finished Endpaper mitts and a summary of my knitting projects 2007. Until then, be good, and knit a lot!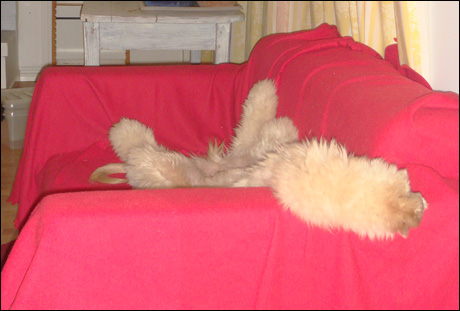 Ludde sleeping in the sofa. What you see closest to the camera is his left front paw, he's sleeping on his back. He hunted down a crow yesterday, and was very pleased with him self! And slept very good after that.