The second Rosebud mitten is started, and FO Pomatomus socks.
The weather in the south of Finland has been grey and rainy for days. Yesterday did it clear up, so I hauled out yarn and needles for the second Rosebud mitten. I have longed to start the second mitten for some time already, but wanted to include a short tutorial on how to make the fringe at the beginning of the mitten. The weather and not good enough camera flashes have prevented me from starting them until now. This is the way Mary Olki teaching to cast on a fringe on a traditional Finnish mitten. The directions are from 1950's, and can be found in her book Kirjokintaita ja muita kansanomaisia neuletöitä
| | |
| --- | --- |
| | Cast on the required amount of stitches. |
| | After knitting one stitch, move the yarn around a flat piece of wood or plastic, from the front to the back. |
| | After two stitches and three loops in one colour, knit the next stitch with both colours, and make the next loop with the new colour. |
| | All cast on stitches are knitted and fringed. Remove the wooden measure. |
| | Knit next row with the main colour. Knit every stitch trough the stitch and the underlying stitch from the cast on row. |
| | After the first row, straight out all the fringes by inserting a needle trough the loops and gently thug them down. |
| | Continue knitting in pattern. |
This week was disturbed knitting wise by an exam, but the Pomatomus socks were finished and blocked in the beginning of the week. They are warm and nice to wear, and I like them a lot. The yarn, Piece of Beauty's Robe&Bowl yarn is so soft and nice in the hands. It lost a little bit of red dye in the wash, but not enough to change the colours visible.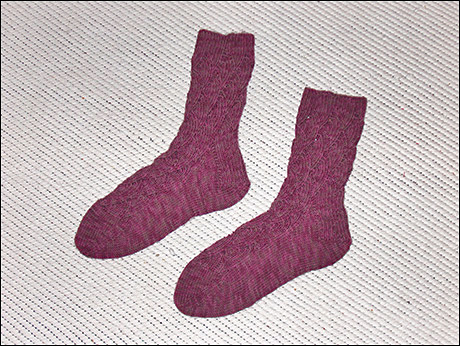 The colour is off as usual with flash. This yarn is not flash friendly!
Project details:
Pattern: Pomatomus by Cookie A. for Knitty
Yarn: Piece of Beauty 100 % wool in the colour Robe & Bowl, 85 grams.
Needles: 2,75 mm dpns.
Alterations: I did only two pattern repeats in the leg part of the socks.
And more miniatures: The bears got a scarf from the rest 15 grams of the Piece of Beauty yarn. Pattern: Shifting sand by Grumperina. Needles: 2 mm. If you cable without cable needle, try it out! It is a fun pattern, and easy to knit.