The bear coat – finally
Nelli the bear presenting the bear coat. I haven't still made up my mind over weather to add a belt or some kind of fastener or not, but fortunately, bears aren't fussy on this point.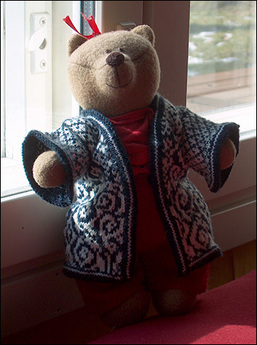 The inspiration for this bear coat goes a long way back. I once saw a picture of a beautiful silk kimono with a pattern of waves along the hem, and an animal (I can't remember which) flying or jumping over the waves. Last year in Copenhagen I saw a very similar kimono. And then when Eunny presented her Anemoi mittens I decided this was the pattern that was to be used for a bear coat inspired by the kimono. Anemoi stands for the wind gods in Greek mythology, and you need wind in order to make weaves, so the background to Eunny's pattern suits my inspiration well.
Since I didn't remember the wind gods too well, I had to check them up, and I got the following explanation: Of the four chief Anemoi, Boreas was the north wind and bringer of cold winter air, Notus was the south wind and bringer of the storms of late summer and autumn, and Zephyr was the west wind and bringer of light spring and early summer breezes; Eurus, the east wind, was not associated with any of the three Greek seasons, and is the only one of these four Anemoi not mentioned in Hesiod's Theogony or in the Orphic Hymns. Additionally, four lesser Anemoi were sometimes referenced, representing the northeast, southeast, northwest, and southwest winds.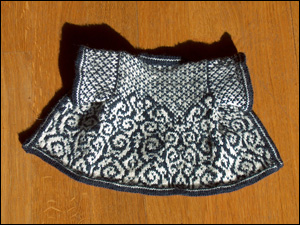 The bear coat is knitted with Regia silk in dark blue and white on 2 mm dpns. The Anemoi pattern is repeated five times over the coat, and the smaller pattern is used for the sleeves. The coat is knitted in the round with steeks, machine sewn in front and in the sleeve openings. Stitches for the sleeves were picked up around the arm openings. The front band is double, hiding the cut edge of the steek.