And the right answer is...
VENEZIA
Yep, after having debating both on the blog and mostly in my head for and against Venezia, the yarn (harsh), the colours (too many) and the difficulty (will take ages), I went ahead and ordered the yarns exactly as Eunny's pattern states. I have never knitted with Jamieson's Shetland so I don't know the feel of the yarn, and I also decided that even if I think many colours in Fair Isle knits isn't for me, I have in fact never tried out a Fair Isle garment. I have quite a lot of faith in Eunny's talent to choose colours. And I got a pretty big share of patience when those qualities were handed out to us. It will take some time, but it can't be an impossible project. It is a challenging pattern, and like all Eunny's patterns it requires your concentration. But I like a good challenge, and it is time to add difficulty to my colour knitting endeavours.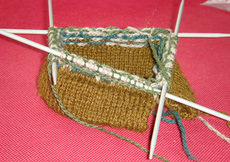 As usually I started with a sleeve. I think it is good to learn the pattern on a smaller piece, less to rip out if you start with the wrong row (hrm, how do I know you can do that) or if the tension after all is not on the spot. I firmly believe swatches are liars, and what more, evil liars. I do them yes, but I have all too often found that when I'm knitting on a bigger piece than the small swatch my tension loosens up, and even if the swatch was all right, the real piece isn't.
Here are some finished/almost finished Venezias: Juju has just started her, as has Kimberly. Maria and Soma have finished their, and Girl who knits (don't know her name) has finished a Venezia in slightly different colours.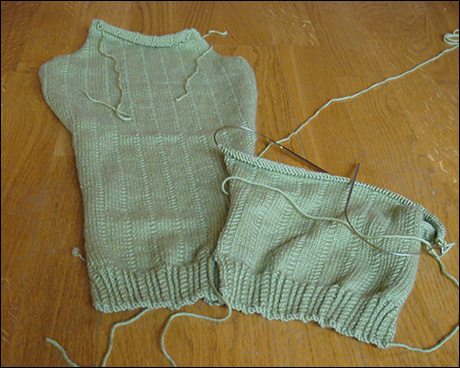 This is how far I came on the spring cardi. The good thing for the spring cardi is that while Venezia is a knit not suitable for all knitting occasions, the spring cardi will get it's constant share of attention, and will not be forgotten on the bottom of the knitting basket.
And last but not least. This is my 100th post on my blog!