Argyl's got a back-piece!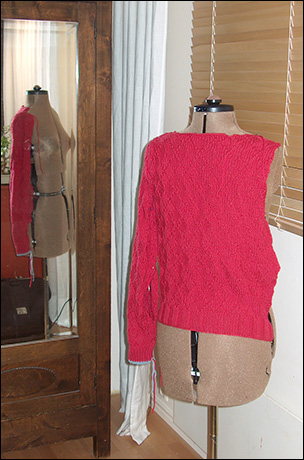 Look! I have had a limited computer time, but more knitting time, and the result is to be seen here: one sleeve and a back-piece completed on Argyle. The tension is perfect, the yarn a dream to work with, and with a 4, 5 mm circular needle is this work just flying!
I'm still humming over my colour-work plans, having problem making up my mind on weather to knit Eunny's Venezia pullover or not. I like the design, but not the amount of colours. I have never been a huge fan of this kind of fair-isle for my self, I admire it but I don't want to wear it. So I think about knitting it up using just two colours, perhaps two different reds, and a contrast colour for the insides of all hems. Who me, a fan of Solveig Hisdal? Where have you got that from ;-) Do you have an opinion on changing the colours? Please, tell me!