It's Argyle
In the afternoon sun, Argyle
First, I added a link in the sidebar to the tutorials I have made last year. I hope you find them useful!
Second, I made up my mind, and started Argyle, by Anna Bell. It's classic in lines, but looks so cosy and warm, still with a degree of elegance, well, I couldn't resist. The pattern is pretty easy, but since it is all in the texture, not in different colours, it asks for attention. The yarn is Jaeger Extra Fine merino Aran in the colour Dahlia. I decided to start with a sleeve, a huge swatch you could call it. Looks good so far. I know my gauge is different when I knit with a big piece, I knit looser than what I do the swatch, and it has several times been a problem. But to reknit part of a sleeve, or even the complete sleeve is usually not a huge task. An annoying task yes, but not an impossible mission.
The red colour is very hard to catch, I took several pictures inside but the red clogged up totally and looked like lingonberry porridge, a delicious thing, but not the colour of the yarn. The true colour has something of raspberries over it, beautiful and bright, but not too bright.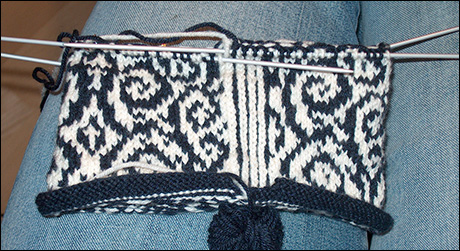 And third, I have also started something that is supposed to be a sort of coat for a bear. The pattern is a repeat of Eunny's Anemoi mitten pattern, five times repeated. The upper part will be in the small pattern of the inside of the mitten, as will the sleeves be. I'm knitting it Norwegian, in the round, and then I'll sew the seams in front and for the sleeves on machine before cutting them up. The yarn is Regia Silk, consisting of wool, silk and polyamid, a sock yarn that would never keep the seams intact without machine sewing.
But now I'm off to sort my stash. I have promised my son new mittens, but I can't find the mitten yarns. It looks like chaos!