The Nino socks and 1 year anniversary
The Nino socks, called so for the memory of our lovely hamster that died last year, are finished. The whiskers aren't that clear on my pictures, but they are very hamster like. The purl stitches on the top of the toe create a nice little paw, and on the underside of the toe are paw prints in purled stitches. The pattern is designed by Theresa from Keyboard biologist knits, who has very good pictures of the toe part on her blog. The pattern is very easy to knit, and I encourage you to try it if you like the look of it.
Pattern details:
Pattern: Whiskers and paws by Theresa Walunas
Yarn: Schoeller & Stahl Fortissima socka in colour1008, slightly more than 50 grams.
Needles: 2,25 mm dpn in order to get the socks smaller (Theresa's pattern is written for woman's medium size with 2,75 mm needles and a thicker sock yarn)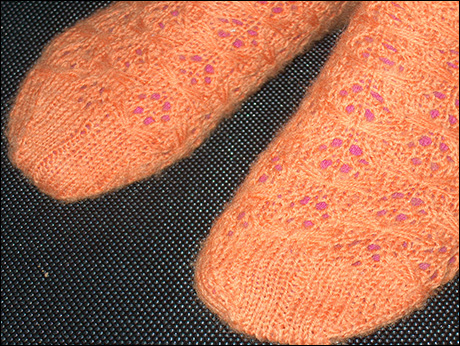 And today is this blog's first anniversary. Thank you all for reading and commenting! The year was started by knitting a scarf and bear clothing, and this second year is started by knitting bear clothing and pondering over what to knit next. I would like to start a sweater, and I have some Jeager yarn, but I have a hard time deciding on what to do. This is mostly due to these two last weeks being so darn busy I have hardly touched my needles, much less to think over what to knit next. I'm very fond of several of Anna Bell's designs, and might decide on her Argyle.
And guess what. The winter is finally here. -11 degrees Celsius this morning and some snow. I had already started to hope for spring...