Modelled Haruha pics and progress on the Rosebud mittens
We had pretty hard winds here yesterday, but nothing happened on our yard, no fallen trees or such. The good thing was that all the oak leaves were thrown from the tree by the winds, so we spent Sunday collecting leaves and taking them to the compost heap. The work went so well that I almost forgot to take pictures of my finished Haruhas.
I did knit them with my winter coat in mind, you see those slits? They can be pretty cold when the wind is whirling around one's arms. The Haruhas are much longer than the pattern model, just because I wanted them to cover my lower arms. I will of course also wear gloves, but my gloves are just and just reaching the end of the slits, and from there on will the Haruha take over. But I think they will be pretty useful in cold libraries too.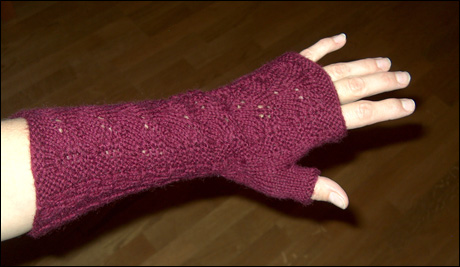 Project details
Pattern: Haruha by Kristel Nyberg for Ulla neulelehti.
Yarn: 100 % wool from Greece, given to me by my still very Secret Pal.
Needles: 3 mm.
Alterations: I did knit them longer. There are four medallions on the cuff of the model, I have seven.
See all entries on Haruha.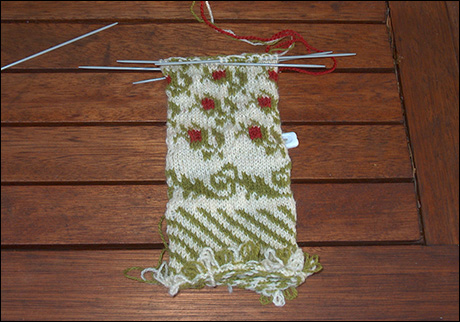 And there has been some progress made on the Rosebud mittens too. They look even more uneven than in real life, sight. But they will even out after a good soak and blocking, I know. The Bayrische socks are also coming along nicely, but I forgot to take a picture before it got too dark for it. Another day, friends.
All this knitting on small needles has made me long for a bigger needle project. With father's day coming up, I'm thinking about a Sharfik by Grumperina in lovely soft Jaeger Extrafine Merino and 4 mm needles. And I do still have some Rowan Linen Drape, that would need to be knit up on about 3,5 mm. The two balls in light lilac would make a lovely shawl for my younger daughter, but what to do with 5 balls in dark purple. A top would be one solution, but I'm open for ideas.