A comfort parcel and finished wrist warmers
I got a web-card from my Secret Pal a couple of days ago, and as promised in the card, the postman had mail for me twice this month. Yesterday did a comfort pack drop into my mailbox:
Chocolate-raspberry coffee that smells good, and tastes good, dark chocolate (i'm one for dark chocolate, so it was a perfect hit. It did last just for the picture to be taken, not many seconds more), a lollypop, a seasonally suitable reflector, a beeswax candle, stitch markers (I'm always dropping them and in a constant need of them) and cute Teddy bears to put on the ends of the needles. And a Mickey card! Thank you secret pal, I'm looking forward to know who you are!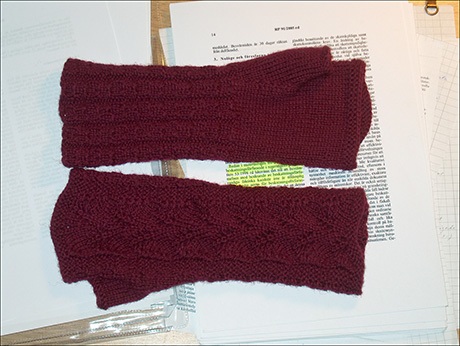 Remembering the Secret Pal yarn from Greece? The Haruha wrist warmers are finished. There will hopefully be modelled pictures in a couple of days, and close ups. Let's keep the thumbs up for blue skies and no rain, and outside picture possibilities!