The "new" project: Autumn Rose*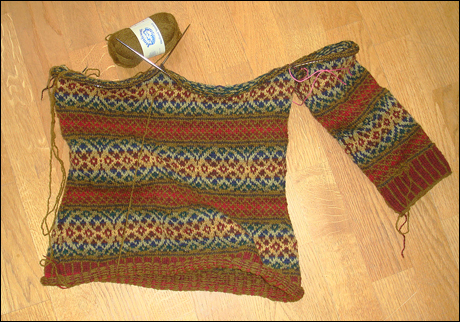 *Now, almost one month after cast on it doesn't feel like a new project anymore ;-)
Hello! No, I haven't dropped off the planet, I have just had my hands filled with a lot of other things. There has, as usual, been knitting going on, but my time by the computer has been used solely for none knitting purposes. This is the way the spring will continue, so I'll stop apologizing for not having time. I'll blog, but it won't be on a regular basis.
Back in February, after finishing the friendship shawl, I started knitting on the Autumn Rose pullover by Eunny Jang. The pullover is knitted in Shetland wool, Shetland Spindrift by Jamieson's. The pattern is to be found in their book Simply Shetland 4: At Tomales Bay. I use needles in size 3 mm, and I'm knitting the smallest size. The pattern is much easier than Venezia, since it's more regular, and there for is this a very fast knit. I think I knitted the body in less than two weeks, and the first sleeve in about a week. And I haven't had that much knitting time, perhaps a little more than one hour every evening. I'll start the neck opening a bit higher than in the pattern, as those familiar with the pattern already can see from my picture. I have also decided to knit the sleeves longer than the pattern, a fact you can't see from the picture, since the sleeve there is the length the pattern states. I'll knit a new cuff and both pattern parts once more, take off the old cuff and graft the new beginning to the knitted sleeve. I'll have much more use for the pullover in my climate with long sleeves, and I do already have Venezia with 3/4 sleeves. The second sleeve will of course be knitted as a long one from the beginning.
And here, a close up of the pattern. I love the colour combinations, this is simply beautiful pullover!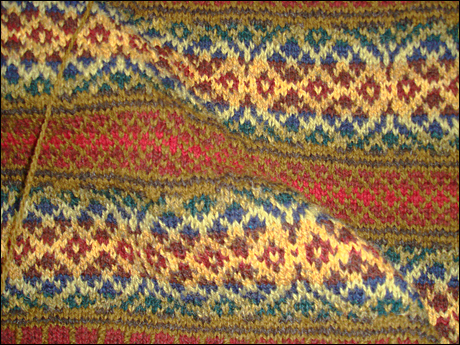 P.S. Chuck's cabled socks are finished, and have been waiting for a modeled socks picture session, but the weather has been grey and terrible, and I haven't got anything done. But there will be pictures!