First WIP update of the summer
First thanks to everybody for all the supportive Venezia comments! I loved reading them, and I found several interesting new blogs from following the commenters' links.
I have been starting a couple of small projects since finishing Venezia and the spring cardi (I have buttons now; modelled pictures will be up soon). This post will be a short overview of what is on the needles now.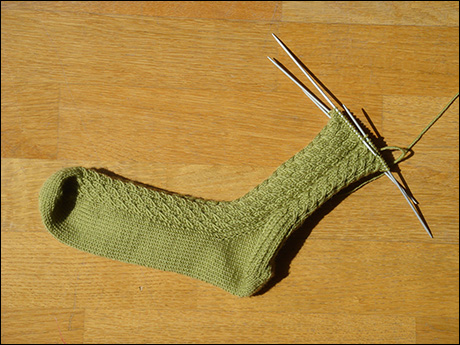 First up are the socks that figured in the seven facts meme. The model is Spindle socks, and the pattern is a freebie by Anna Bell. They are knitted with Debbie Bliss Cashmerino Baby, and the sharp eyed can see that the colour is the same as in the spring cardi. I thought it was a suspicious small amount of yarn stated for the cardi in pattern, and ordered two balls extra, thinking that I'll make the socks if there is anything left. The amount of yarn, 10 balls for my size, was enough, and the two extra balls went into these socks. They are knitted on 2,5 mm needles. Anna's pattern is knitted just the regular way, but since I wanted to use all the yarn for the socks, I decided to knit them from the toe up, using this pattern by Brooke Chenoweth Creel for the toes and the heels. The magic loop cast on for the toe she is using is made up by Judie Becker. It's well known that I'm no fan of short row heels, and this pattern combines the toe-up style with a traditional heel. Perfect! I love this pattern. First sock close to bind off.

The second project is my penguin manufacturing. There is a cute pattern in Knitty, and I had some Novita Seitsemän veljestä yarn in black, almost a ball of Regia Silk in white and two different yellows in Jamieson's Spindrift. Regia Silk doubled and the yellows doubled equalled almost the Novita yarn. There will be two penguins with different colours on the beaks and feet.


The third project is also a pair of socks. My youngest daughter is playing football in a team called Mimmitiikerit (a Mimmi is in Finnish a small girl, and also the name of Minnie Mouse, girlfriend of the mouse called Mickey, tiikeri is tiger). I have a 100 gram ball of Opal sock yarn in the colour way Tiger. What you see here is the beginning of a tiger coloured football sock. They are knitted from the toe up according to the same pattern as the Spindle socks, and the ribbing is the traditional football sock ribbing, 5 knit 1 purl stitch. I'm using 2,5 mm dpns, and I'm afraid the leg part will still take forever.