Longing for the spring and the summer birds
This week is winter holiday week here in the south of Finland. The children are at home and hubby managed to take the week off too. I have to attend a lecture tomorrow, and I should write a short essay, but I feel partly as if I also were on vacation too. So in order to entertain myself, I'll try to post a daily update on the WIP pile. You see, I have, since Argyle was finished on Saturday, started a couple of new works. And there are still the old ones to update. Very suitable, all in all five projects, and five days.
First up on the line is Swallowtail shawl. This shawl has in my opinion got a very crappy colour on the picture in Interweave knits Fall 2006 number. Fortunately it has been a popular shawl, and there are lot of beautiful shawls out there in the blog world to admire.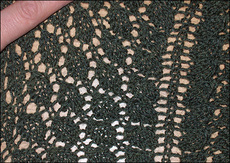 I have dear friend who is about to have a quite even birthday soon, and I decided to try to finish a shawl for her. If it goes trough the quality check after blocking that's it, if not I'll have one nice shawl more. I chose Wetterhoff's Sivilla yarn, a soft and shiny yarn in 30 % silk and 70% wool. There is 250 meters to 50 grams, considerably less than in the alpaca yarn used in the pattern. I decided to go up one number in needle size, and it seams to be a good choice. The lacy fabric is airy, but still not too thin. I'm using Addi bamboo needles, and they feel very nice. The first budding strip is knit, and ten out of fourteen sequences of the main bud pattern. It will be followed by two different charts of the lily of the valley pattern, and then the spiked swallowtail edge. I have 100 grams of the Sivilla, and it should be enough, Tikru made one with the same yarn and needles, and used 90 grams.
We have about -10 degrees Celsius today. We have already been out ploughing snow away from the small lake in order to make a skating area, and the sleighs are on the afternoon program. I'm afraid it will take quite some time before we see the migrating birds arriving from the south.