Look, look, it's Argyle!
Wih the sun in my eyes
Argyle is finished. Lovely Argyle, oh how I love you! The fit is almost perfect, it could have been a tad longer in the body (this is a common problem I have with British pattern, I do often have to put a little more length in the body), but the arms are perfect, and the fit over the shoulders just as supposed to be. The Jeager yarn is soft and warm, and was a dream to knit with.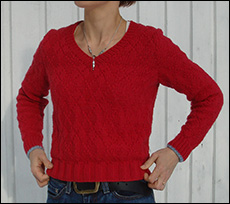 The pattern was easy enough to memorize, even if I have to admit that on the first arm was several mistakes made and frogged. Big thank you to Anna Bell for giving out this pattern for free!
With this knit I decided I wanted to try some new cast ons. I took help from my Vogue knitting: The ultimate knitting book, and made an alternate cable cast on for the sleeves, and an ordinary cable cast on for the body. Both took a bit more time to perform, but I'm very pleased with the result. They both feel very sturdy, yet elastic. The alternate cable cast on is according to Vogue especially good for K1P1 ribbings.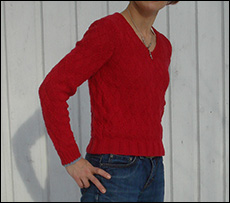 Project details:
Pattern: Argyle by Anna Bell for Magknits.
Yarn: Jaeger Extra Fine Merino Aran 10 balls in the colour Dahlia and a little bit light blue for the sleeves.
Needles: Addi circs 4 mm (bamboo) and 4,5 mm (metal).
Gauge: 18 stitches and 26 rows to make 10x10 cm with the larger needles.


Close ups! The colours are a bit weird, since I had to take the pictures without flash inside. I don't know why this colour is so hard to capture, it goes over to a red mass as soon as I whisper flash. Well, learning to use the colour adjustment tool on my Photoshop could of course help the situation. One of those days, I promise I'll look in the all the features of the program!