The finished Rosebud mittens and new WIP
Today was another grey and cloudy day, not the sunshine I had hoped for in order to take beautiful pictures of the finished Rosebud mittens. And what more, there will be no modelled pictures of the mittens. The younger daughter, who has petit hands, has too big hands for them. The mittens were simply too small, something I had slightly anticipated. The good thing is that my niece, even if she is only three, has quite big hands, and will soon be able to wear them. She is having birthday very soon, and I'm still not sure of what more than the mittens to give her in order to manifest my place as aunt of the year (ok, I'm her only aunt, but still, you should never underestimate nieces).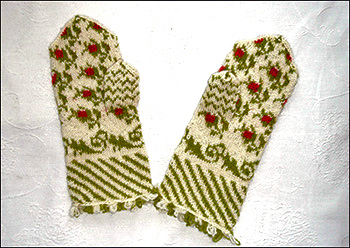 I followed more or less the pattern by Eeva Haavisto in her book Sata kansanomaista kuviokudinmallia; there are some small tweaks in the flower pattern in order not to have to twist the yarn so many times on the backside. And the thumbs are patterned according to the mitten I saw in the National museums collection. The green colour is also from the museum mitten pair, Eeva Haavisto's pattern was knitted in black, white and red.
Project details:
Pattern: A combination of the mittens with rosebuds from Kurikka in Eeva Haavisto's book Sata kansanomaista kuviokudinmallia and a pair of mittens in the National Museums collection, from Ilmajoki (both places are in Pohjanmaa, about 15 kilometres apart).
Yarn: White and red Vuorelma's Satakieli, green Isager's Tvinni.
Needles: 2mm dpns.
Gauge: 40 stitches and 43 rows to 10 x 10 cm.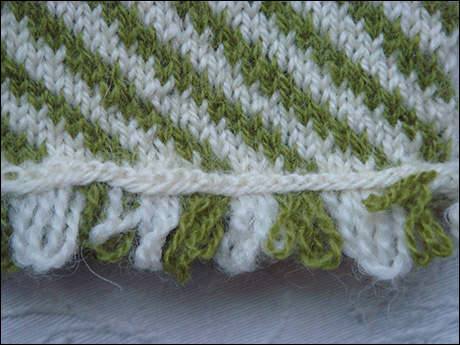 The new project I started just before New Year is the Paws and whiskers socks by Theresa, but over here known as the Nino socks, or for the memory of a world fine hamster. The yarn Theresa used for these cat inspired socks was very much in colour with our beloved hamster Nino, who died in November, and I instantly saw her whiskers and paws in the pattern. I decided to knit the younger daughter a pair of Nino socks, initially intended as a Christmas gift, but delayed by other things going on around.
I had first in mind to omit the edge Theresa had made and simply make a ribbed cuff, but changed my mind in the last minute. I now have to sew the edge to the inside (and the inside will be ribbed, but that doesn't matter). I have reached the heel, almost, and I must say it is a pattern that looks much more complicated than what it is. It's not mindless knitting, but it is fun and easy knitting. Well done job with the pattern Theresa!