Who needs new mittens?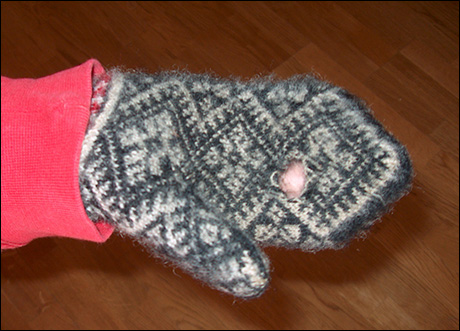 Click for a picture of the newly knitted Marko's mittens
The next pair of mittens in the line is for my younger son. John had last winter a pair of Marko's mittens from Folk knitting in Estonia, but, alas, they need to be replaced as first mittens. And then darned of course!
When I was I Copenhagen earlier this year I bought some soft Isager Tvinni yarns, a 2 ply 100 % merino wool yarn, with mittens for my sons in mind. But I hadn't said what intentions I had of the yarn, so you can guess I was surprised when we discussed patterns and colours, and John did pick exactly the two colours of Isager yarn that I had bought with him in mind! He wanted a fairly simple pattern, a choice that also made me pretty happy. Mindless mitten knitting is exactly what I need right now. You almost get a zen feeling out of knitting these mittens, and I have, after two days of not too much mitten knitting already passed the thumb. The cuff is ribbed with 1 knit 3 purls. The colour pattern is again* from Eeva Haavisto's book, and the mitten construction my basic. The Isager yarn is quite thin, and my tension on 2 mm needles is 42 stitches to 10 cm. But it's soo soft! It's heaven to knit with it, and you forget how many stitches there really are.
The pattern has no name, and I haven't come up with anything good yet. So they will for now be John's unnamed mittens.


* My good intensions of doing lot of research for the mitten project seams to be dream intentions. I have so much to do this autumn that all my Finnish mittens seams to be picked from Eeva Haavisto's book Sata kansanomaista kuviokudinmallia. Perhaps the spring will be more suited for researching what the museums do have among their knitted treasures, and to try to find more literature about mittens and mitten traditions in Finland. Mittens where given at weddings here too, like in Estonia and Latvia.