Mittens in progress
The new Satakieli yarns have been very tempting on the needles, and I have knitted way more than I should this weekend. One reason has been watching football, there is not so much to do when the girls are warming up, except to knit. The tournament went well, the girls won two games and played one even.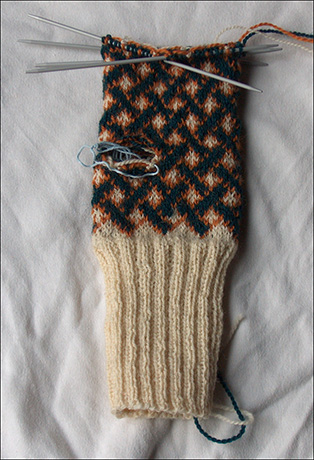 This is the basket weave mitten, knit with the blue green Satakieli and after a suggestion from Memmu, with golden Satakieli as contrast colour. Sofia, the younger daughter, saw these mittens, and forgot everything about what she had wanted before. Her mitten world was filled with this mitten. And that was a good thing, since what I hadn't taken into consideration was that being knit with three strands of yarn the mitten will be significantly smaller than when knit with two strands of yarn. Sofia's hand was the only one in the family that would fit into this mitten. Being knitted with three strands of yarn will also make them warmer than when knitted with only two.
The pattern is from Eeva Haavisto's book Sata kansanomaista kuviokudinmallia, and she gives the credits for the pattern once again, to Jalasjärvi. Her original was knitted in black, with red as contrast and white as background. Must be a quite impressive combination! The cuff is very long, a good thing for a mitten made for a very mobile child. Knitting with three strands is a bit trickier than knitting with only two, but the result is quite nice. Do you want to have a close up? Click away and you'll get it!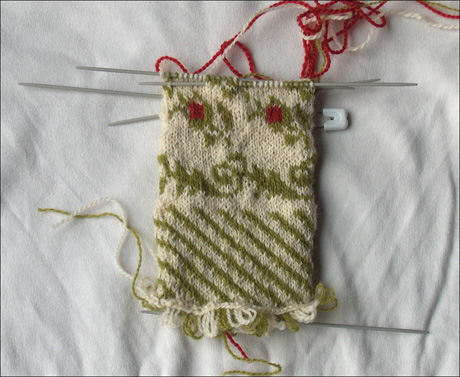 These are the mittens I had already started for Sofia. The white and red yarns are Satakieli, the green Isager Tvinni, bought some time ago in Copenhagen. The pattern is one that you can find as well in Eeva Haavisto's book as on a pair of mittens in the National Museum collection of old Finnish mittens. Haavisto says her model is from Kurikka, and it is knitted in white, black and red. The model in the museum collection is knitted in green, red and white, and is said to be from Ilmajoki. Kurikka and Ilmajoki are about 15 kilometres from each, and the distance from Kurikka to Jalasjärvi is about 25 kilometres. So we are moving on a very small area in the south of Pohjanmaa here. I haven't seen the model in the museum collection personally, only a picture of it, and I think the cuff was made in a little different way, it looked like it had more structure in it. I can't swear either that the pattern is exactly like what I have knitted. The museum picture has been my inspiration, but I have used Haavisto's pattern for the mitten. The lower pattern, above the cuff, is called "ässänväärä", and is a pattern that is used in several different art forms in Pohjanmaa, for example on painted furniture. It's a typical rococo ornament, and believed to have come to Pohjanmaa from Sweden. The flowers above the ässänväärä are looking like rosebuds, so I call the mittens rosebud mittens.
On both of these mittens is the thumb made as I think they were made before in Finland. It's a straight thumb, with the thumb stitches stored away on a tread, and new stitches casted on above (this is by the way my grandmother taught me to knit mittens eons ago). I did cast them on in the colours that would have been used for the stitches; I don't know how much it will matter when the stitches are picked up. The tops of the mittens will be finished in two different ways, more on that in next post on the mittens.