What you see is not always what you get
Så är det. Vad du ser är inte alltid det du får. Jag lärde mig en dyr läxa för några år sedan, men eftersom problemet dök upp igen beslöt jag mig för att skriva ner några tankar om vikten att känna till sina egna mått och att noggrant läsa igenom mönstret före man börjar sticka.
Ali, som är min ögonsten på stickfronten för tillfället, är en jacka med isatta ärmar och formad midja. Om man tittar på bilden till Ali ser man att den når nästan ner till handleden och halva höften. FEL! Modellen på bilden bär en Ali som verkar vara flera nummer för stor! Jag reagerade redan när jag första gången såg Ali över att axlarna inte alls sitter på modellen, och att det ser ut som om en hel massa stickat material har skuffats bakåt, trots detta pösar sig tröjan vid höger arm på helbilden. En närmare inspektion av måtten ger också för handen att jackan är ca 10 cm för lång i såväl kroppen och i ärmen. Nu finns måtten angivna på Kim Hargreaves sidor, och jag märkte skillnaderna redan före jag beställde Ali, men om jag inte skulle ha granskat måtten, känt till mina egna mått och läst igenom mönstret före jag började sticka, skulle jag ha haft framför mig en ordentlig överraskning i form av en jacka som är mycket kortare i både ärm och kropp än vad jag hade förväntat mig.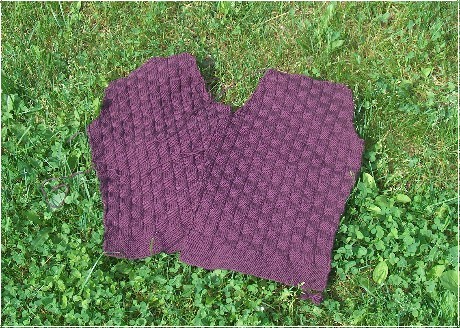 Pressa oss! Block us!
Yes, it's true. What you see is not always what you get. I learned an expensive lesson years ago, but since the problem resurfaced while knitting Ali, I thought I would address the matter with a few words. The matter being the importance of knowing once own measurements and to read through the pattern before starting to knit.
Ali, the knitting pearl of my eyes for the moment, is a fitted jacket. Looking at the picture is the jacket coming down almost to the wrist and halfway down the hip. WRONG! The model on the pictures is wearing an Ali that is a couple of numbers too big. You see how the shoulders are dropping and there is an excess of knitted fabric under the left arm. According to the measures are the body and the sleeves about 10 cm too long in the picture! You find the measures at Kim Hargreaves website, so I checked them out when reacting on the sizing of the pictured Ali. I knew what I ordered, but if I hadn't reacted on the fact that the measures were not what my measures would have been for a jacket looking like Ali, I would have been up for a less nice surprise when finding out that my jacket is much shorter than what I thought I had ordered. So, read through the pattern, and compare the measures to your own!