Stadi Cup 2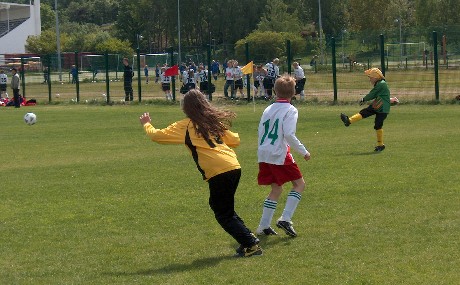 Stadi Cup dag två: Flickorna vann sin första match och spelade den andra oavgjort. Det sammanlagda resultatet gav dem en tredje plats i gruppen (av sex lag) och kvartsfinal match på lördag. Sofia (nummer 14 ovan) spelar anfalls spelare. Solen sken, och fastän det blåste lite var vädret skönt.
Stadi Cup day 2: The girls won their first match and played equal the second*, giving them a third place in the group (out of six teams), and first cup match on Saturday. Sofia (number 14 above) is playing offensive player*. The sun was shining, and it was a pretty nice day, even if there was some wind.
Och jag startade en ny socka, den perfekta tag med dig när du tittar på din dotters fotbolls match-stickningen. Garnet är Vuorelmas Veto, 85 % ull och 15 % polyamid. Jag blev intresserad av garnet tack vare korrespondens med Yuki. Det känns skönt att sticka med, men är lite grövre än vad jag är van vid, så det ser ut att bli stövel sockor till far i huset. Mönster randningen är Nancy Bushs, från Knitting on the road.
And I started a new sock, the perfect take with you while looking at your child playing football-knitting.The yarn is Vuorelma's Veto, a yarn I took interest in after a correspondence with Yuki. Veto is a nice yarn to knit with, but a bit thicker than what I am used to, looks like these will be boot socks for the husband. The striping is Nancy Bush's, from Knitting on the road.
*Help! Hand me in a Swedish-English football dictionary. I don't know if equal is the word, could it be undecided, or something like that? My football vocabulary is small in Swedish and Finnish, but almost inexistent in English. I have never played or followed football except the World Championschip games and the European Championships, and they are usually reported in Finnish or Swedish on our TV channels. I have still problems with rules, and I'm usually too nervous to follow Sofia's matches close enough to learn a lot. I definitely belong to the service team, keeping track of balls, shoes, girls and schedules.