Multi crafting project
Jag har ingen kamera den här veckan (äldsta tonåringen är på vandring över en vecka i Lappland, och bad att få ta den med sig, vad gör man inte för älskliga barn), och jag håller i sig inte heller på med de mest extalterande stickningsarbeten, så det skulle inte finnas så mycket att fotografera. Hiiumaa sockorna är nästan färdiga, och den första av Tiits sockor nästan färdig (jag har beslutat att det blir "mina" sockor i Family Sock Challenge). Så inspirerad av Brendas Bea Bop och Beckys Freeda beslöt jag mig för att presentera ett "multicraft" arbete jag gjorde hösten 2004 åt min vän Elizabeth. Det omfattade syende, stickande, filtarbete och till och med lite träarbete.
I do not have a camera this week (the older teenager is on a trekking tour in Lappland for more than a week, and the camera is with him. My knitting works are not very picture friendly either, so it does not matter that much. The Hiiumaa socks are almost complete, and the first of Tiit's socks is almost done (I have decided that Tiit's socks will me mine socks in the Family Sock Challenge, so after that is round one complete). So, I decided, inspired by Brenda's Bea Bop and Becky's Freeda, to show multi craft project I did in autumn 2004 for my friend Elizabeth. It includes sewing, knitting, felting and even woodwork.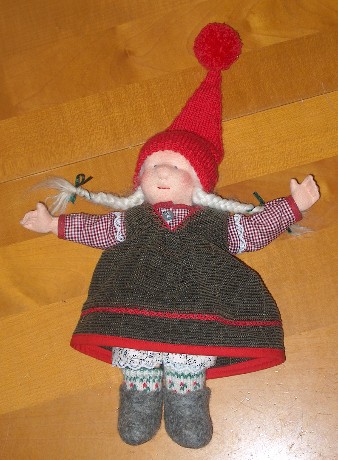 Det här är en tomteflicka jag lagade. Hon är ungefär 20 cm hög (hon är i Alaska nu, så jag kan inte mäta), och gjord enligt waldorf principer (i Finland kallas waldorf dockor ofta steiner dockor). Kroppen är sydd i hudfärgad trikå och stoppad hårt med ull. Håret är en peruk gjord av norsk spelsau ull, flätad i två flätor omknutna med silkesband. Ögon och mun är broderade med ullgarn.
This is a tomtegirl I made according to waldorf doll principles (waldorf dolls are often called Steiner dolls in Finland). She is about 20 cm long (she lives in Alaska today, so I can't remeasure her) and her body is sewn out of skin coloured fabric and she is firmly stuffed with wool. Her hair is a wig made out of Norwegian spelsau wool, braided and bound with silk ribbons. Eyes and mouth are embroidered with wool yarns.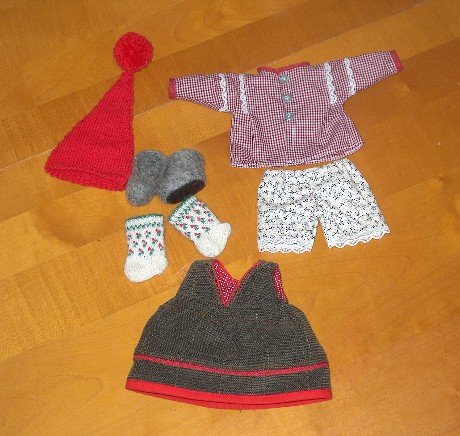 Tomteflickan har lite ålderdomliga kläder, men som du vet har tomtarna funnits runt människorna i hundratals år, så det är naturligt att kläderna reflekterar detta. Hon bär en skjorta med spetsband och en kjol med liv och röd fodring. Hennes underbyxor har också en smal spetskant. Liksom alla tomtar bär hon en stickad luva och stickade strumpor. För att kunna röra sig fullständigt ljudlöst är hennes skor filtade i ull och försedda med en sula i mjukaste läder.
She has a somewhat old-fashioned twist on her clothing, but you know, the tomten are like that, one must realize that they have been around for hundreds of years. Her clothing consists of a sewn shirt with trimmings and a skirt with lining in red. Her underpants have lace trimmings. She wears, like all tomten, a knitted cap and knitted socks. And to be able to walk around totally soundless are her shoes felted with soles of the softest leather there is.
Tomtar förstår sig på handens verk. Denna tomteflicka reste till Alaska med en korg som innehöll både början av en stickad halsduk i silkesgarn (eller var det kanske ängsull) och en slända med början till ett garn. Och när hon kom fram lär hon skall ha avancerat till en riktig spinnrock. jag hoppas hon har fått många arbeteb färdiga i sitt nya hem, och kanske också lärt sig spinna och sticka de otroliga garn som ser dagens ljus på ön Kodiak.
Tomten do understand the work of the hand. This tomtegirl started her journey across the globe with a basket containing a scarf (knitted with silk yarn) and a drop spindle on which a yarn is started. Rumours told me she got a real spinning wheel when settled down. I hope she has completed many works, and perhaps even learned to spin and knit those fancy yarn that are made in Kodiak.
Vill du veta mera om tomtar? Se här.
A couple of books with tomten, look here.