Sofia's socks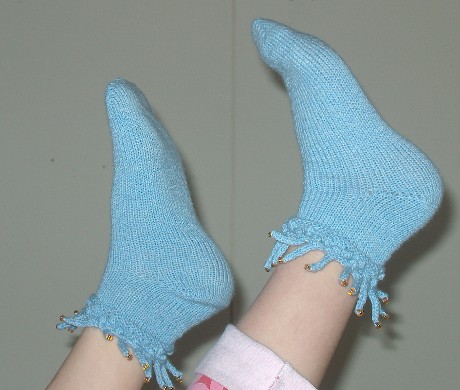 Vår yngsta dotter är en busig tjej, som behöver sportiga sockor! Efter vissa påtryckningar tog jag stickningen i fasta händer och slutförde sockorna i går kväll. Resultatet ser ni här. Vad som fick mig att tro att det var en bra ide att avsluta mudden med 17 i-strontar vete katten - jag tänkte nog inte då på att det betyder 34 ändor att fästa per socka, inalles 68 plus en knut på garnet, ALLTSÅ 70 ändor! Hupsis! Och 34 pärlor!
Our younger daughter is a sporty girl, no lady socks here! Since she indicaded yesterday that it's time to get a pair of socks, I decided to take the yarn in steady hands and finish them. The result can be seen here. What I hadn't thought about when making up this patterna was that 17 i-cords per sock makes 68 ends to weave in, and a knot on the yarn, IN ALL 70 ends! And 34 beads!


Projekt detaljer:
Mönster: mitt eget, 54 maskor. Korta varv i häl och tå.
Garn: Regia cotton, 50 gram.
Stickor: 2 mm, stickfasthet 28 maskor och 42 varv till 10 x 10 cm.
Övrigt: 34 pärlor
Project details:
Pattern: my own. 54 stitches. Short rows in heel and toe.
Yarn: Regia cotton, 50 grams
Needles: 2mm, gauge 28 stitches and 42 rows to 10x10 cm.
34 beads.