The never ending ribbing
Edit: Jag tyckte posten var lite orolig med så många bilder, så jag gömde några bakom klicka på länkar. Inget nytt alltså! I found the posting to be a bit too busy, so I hid a couple of pictures behind click on links. Nothing new!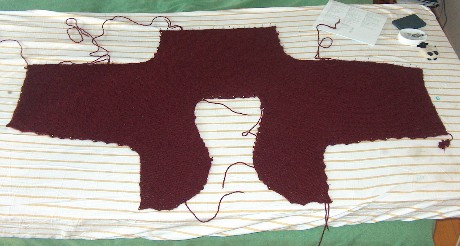 Splendour avancerar sakta men säkert. Jag har pressat hela utspända boleron och ångat den. Jag valde att inte använda pressduk, utan att hålla hålla strykjärnet en liten bit ovanför den stickade ytan, och låta ånga arbeta sig in i materialet utan press. Jag använder vår reservmadrass som pressunderlag, skumplasten ger ett perfekt underlag för att fästa nålar i, och den är lätt att flytta undan då man är färdig. Och alldeles riktigt, det var inte en brilliant ide att börja detta arbete med en tröja stickad i Hifa 2 garn på sig. Det är en av de två tröjorna jag stickat från Solveig Hisdals bok En dikt i maskor som syns på bilden. Jag höll på att ånga bort själv innan jag fick tröjan av mig!
Splendour is advancing, slowly but steady. I have blocked the body of the bolero on our spare mattress (a perfect grip for the pins in the mattress surface, and it is light and easy to put away after use), by holding the iron a little bit over the surface. And it was not a splendid idea to start this job wearing a Norwegian sweater knitted out of Hifa 2 yarn. It is one of the two sweaters from Solveig Hisdal's book Poetry in Stitches that I have knitted, and it is warm.
Ärmmuddarna är stickade, och de har en genial konstruktion. För att inte vara för lösa, men ändå passa ihop med den ganska vida ärmen har de formning med korta varv både i början och i slutet. Se här hur fint de korta varven sitter! Kanten av mudden har också en picot kant som gör att resåren inte tänjer ut fast det är stickat på "fel" håll. Kim Hargreaves är alldeles otroligt bra på sådana här detaljer, det har jag märkt i många av de av henne designade tröjorna jag tidigare har stickat också.
The cuffs are knitted "the wrong way" and a beautiful example of Kim Hargreave's talents as a designer. The edge is done with picot stitches, by casting on and immediately casting of a stitch. It gives the cuff edge stability, and is decorative as well. And the cuffs are also shaped with short rows in as well the beginning as the end to make the cuff match the somewhat wider sleeve. Look here at the beautiful short rows!

Och nu har jag då nått ribbstickningen som skall gå hela vägen runt boleron. Det känns som om den aldrig kommer att ta slut, jag bara stickar och stickar, varv efter varm, med picot kant. Men se upp, någon gång måste även den här resåren ta slut, hur eviga de än känns. Och då har jag ett färdigt projekt att visa upp!
And now I have reached the never ending ribbing. It is also done with the picot edge, and is worked all around the body. But stay tuned, it can't take to many days to have it finished, even if it feels eternal, and then I'll have a finished project to show!