Family Sock Challenge, update I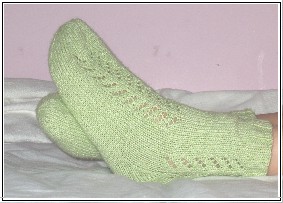 Familje sock projektet avancerar!
Två par är färdiga, min äldsta sons sockor som jag redan har presenterat, och den äldsta dotterns. Sockorna är lite för stora på mottagaren, men, som alla vet, elva åriga barn har en tendens att växa. Förbluffandes fort dessutom, så de kommer inom kort att vara bra. Jag har stickat på de här sockorna så gott som uteslutande då jag har suttit på mornarna en halvtimme och druckit kaffe i väntan på att fakultets biblioteket skall öppna. Sockornas mönster(Närbild!) kommer från Nancy Bushs bok Folk knitting in Estonia, modellen är Juta's stockings. Jag har använt garnet Regia Cotton, ett härligt garn som består av 41 % ull, 34 % bomull och 25 % polyamid. Jag kunde ha använt tunnare stickor, nu blev stickfastheten 28 maskor på 10 cm med 2,5 mm stickor.
The Family Sock Challenge is advancing! Two socks done, the first pair, those of my older son, have already been presented here. And now, here are the older girl's socks. These socks have been knitted while I every morning have been waiting for half an hour in a café drinking coffee, for the faculty library to open, and allowing me to start my studies. The pattern for the socks (Close up!) is from Nancy Bush's book Folk knitting in Estonia, Juta's stockings. The yarn is Regia cotton, a sock yarn consisting of 41 % wool, 34 % cotton and 25 % polyamid. Gauge 28 st to 10 cm. The socks are a little bit too big, I should have used needles 2 mm instead of 2,5 mm, but since the recipient is only eleven it's no problem. We all know how children in this age grow!
Redan för en tid sedan började jag sticka ett par sockor till min man. Jag ville laga mys sockor i sköna Regia silk (och han ville mest ha stövelsockor, ödet stod på hans sida, vänta bara!) Som mönster valde jag Tiit's socks ur Folk knitting in Estonia. Men, det blev inget av Tiits sockor. Eller blev och blev, men de väntar nu på Familjesock omgång nummer två. De blev för smala. Min man har en hög fot, vilket jag hade tänkt kompensera med en djupare hel, men jag hade inte tänkt så långt som att han ju måste få skaftet också över hälpartiet. Det goda är att de passar som gjutna på äldre sonen. Men eftersom han redan fått ett par familje sockor får han alltså vänta på omgång nummer två innan han får de här.
Some time ago I started to knit Tiit's socks from Folk knitting in Estonia for my hubby. I wanted to knit something soft, he wanted boot socks, and this time he won. He does have a quit high foot, which I had in mind to compensate with a deeper heel. What I hadn't taken into consideration was that he also has to be able to get the heel trough the leg portion of the sock. And that part was too narrow. Good thing is that the size is perfect for my older son. Bad thing is that he has already got his first family sock challenge socks. So Tiit's socks are stalled until round two of the family sock challenge.


Tiit's socks
För att få ödet på min sida, och sticka det min man ville ha, började jag ett par stövel sockor i Novitas garn Sju bröder. Min mormor stickade otaliga sockor ännu i början av nittiotalet av det här garnet, men jag höll då verkligen inte på att känna igen det. Otroligt strävt har det blivit, känns inte alls skönt att sticka med. Mönstret baserar sig lite löst på Nancy Bushs Gentleman's fancy sock ur Knitting Vintage socks. Jag säger lite löst därför att jag har ett mycket tjockare garn, och därför färre maskor, och sockorna blir inte heller lika långa som modellen. Men hälen har jag tänkt laga på det vis Nancy föreslår, för det är ett helt nytt sätt för mig.
To get fate on my side I decided to knit boot socks for the hubby. The yarn is Novita's Seitsemän veljestä, a yarn my granny knitted socks from in the beginning of the 1990's. The yarn has changed a lot, it is very hard and not fun to knit at all. I sincerely hope it does soft in the washing process. But I think it will be good as a boot sock yarn. The pattern is loosely based on Nancy Bush's Gentleman's fancy sock, from Knitting Vintage socks. Loosely, since my yarn is much thicker, and the sock is not going to be as long as the pattern states. I plan to make the heel just as Nancy advises, since it is a totally new heel for me.


Gentlemans fancy sock- the beginning