Works in progress
Under january månad har jag hittits i huvudsak arbetat på två projekt: Kim Hargreaves design Charm samt ett par vantar till min far. Några färdiga småarbeten har jag också hunnit med, men de kommer att presenteras under egen rubrik.
Charm är en cardigan tröja stickad i Rowan Felted Tweed med stickor 3,5 mm. Jag måste gå ned i stickstorlek med 1/4 för att få rätt masktäthet. Hela koftan är stickad i alltid rätt stickning. Designen har flera verkligt smarta detaljer: korta varv nertill på framstyckena för att förhindra knappslån att trilla ner, sättet att börja de räta varven i knappslån så att de blir alldeles raka, samt ärmens mudd som stickas på tvären varefter maskorna plockas upp längs muddens långsida. Jag valde färgen Phantom.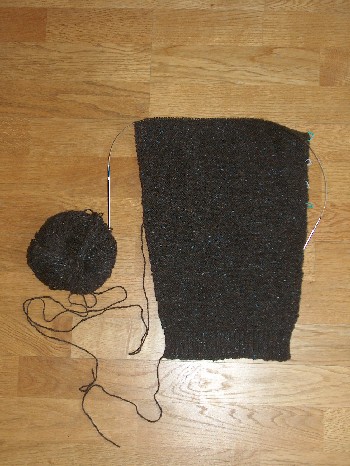 Charms första ärm. Backstycke, framstycken och den första ärmen är avklarade.
Det andra arbetet på gång är ekorrvantarna. Mönstret är från Barbros sida (skrolla ner så hittar du bild och link), och jag stickar dem med "fusktvåänds "sticknings mudden. Mina föräldrar bor i en stad som har en ekorre i sitt stadsvapen, så jag beslöt att de här vantarna skall bli en lämplig födelsedagsgåva till min far. I deras stad kan man hitta det mesta med ekorrmotiv, till och med pepparkaksformar. Ekorrvantar är relativt milt i jämförelse!
Projekt detaljer: stickor 2 mm, garn Kamena 100 % kamull i skogsgrönt och naturvitt. På bilden syns en detalj av mudden. Man håller den ena färgen utanför stickningen och den andra innanför på normalt vis. Varannan maska stickas rät med det bakre garnet och varannan avigt med det yttre garnet. Det var först lite knepigt att hitta greppet för att hålla det yttre garnet rätt, men när det kom började själva stickandet gå relativt snabbt.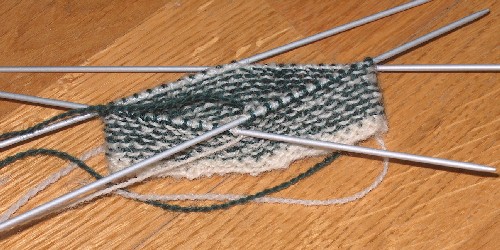 Färgerna på bilderna är lite mystiska. Vinterljus är inte lätt, så jag skall försöka få bilder av de färdiga arbeteba i dagsljus.
I have in January been working on a couple of small works (to be presented later) and two bigger projecs. The first is the design Charm from Kim Hargreave's own collection in Rowan Felted Tweed on needles 3,5 mm, colour Phantom. I have finished the back, the fronts and one sleeve.
The second project is a pair of mittens with a squirrel motif, found on Barbro's site (scroll down for picture and pattern).. The yarn is Kamena in off white and green, a 100 % combed wool yarn, knitted on needles 2 mm. My parents live in a town with a squirrel as it's symbol, so I thought these mittens would be a suitable present for Dad's birthday.