The Seiskari mittens
Here we have the project that was supposed to be presented on Friday. It's the beginning of a mitten for my older son with a pattern called Liisan kirjat. This pattern was known in a biggish area in south-south-east of Finland, Kymenlaakso and east Savo and on the outer islands. I have seen pictures of mittens with this pattern giving the credits to Seiskari (the outer most of the Finnish islands lost after the second world war to the Soviet Union), to Lavansaari (also lost after war), and to Sippola and Luumäki (both in Kymenlaakso). The pattern is also known in Estonia and in Gotland, Sweden (a mitten with this pattern can be found in The Mitten book by Gottfridsson & Gottfridsson).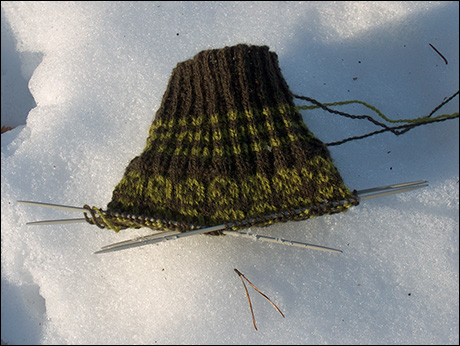 The mitten is cast on with 80 stitches, and four more is increased after the ribbing. The yarn is Tvinni, a thin Danish 2 ply merino yarn I bought last autumn (click here if you want to read my report on yarn shops in Copenhagen). The green is the same green as I used in the Rosebud mittens, but it looks much brighter together with this brown yarn with an undertone of green. It is quite interesting how colours look so totally different in another colour surrounding. I'm using 2 mm dpns for these mittens. The thumb will be a straight peasant's thumb, and the mitten top a flat Finnish top. Click here for a close up of hte pattern!