I should be knitting mittens, really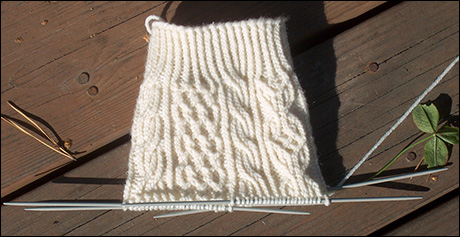 But all I do is knitting socks. I'm almost obsessed by Eunny's Bayrische socks. The fine gauge, the well defined stitches, the beautifully flowing pattern, what more can ask for? There are almost 100 stitches in one sock, the knit stitches knitted twined, and there are twists on every row. It's not complicated at all, but you have to be alert all the time. And it's addictive. I love the socks already, and have problems putting them to the side. I had white and blue Regia silk in stash (hurray for emptying the stash!), and I chose the white, in order to get most out of the travelling stitches, knitted through the back loop.
But before I got this socks obsession, I knitted quite a lot on the flower mittens. Look, the first mitten has got a companion.

I think I will use a smaller pattern on the thumbs, a practise quite common on old Finnish mittens. The other option would be to let the flowers continue on the outer side and then use for example stripes on the inside, a way to come around the problem that also were used a lot. When I'll be able to let the socks rest I'll have to make a decision.