Announcement
The autumn is here. The kids are gone to different schools, and you can feel the signs early in the mornings and in the evening. The nights are getting colder, and even if the weather is warming up nicely during the day, the feeling, the taste of the colder night is there.
And with this post I declare the mitten season chez Yarn Nest to be opened.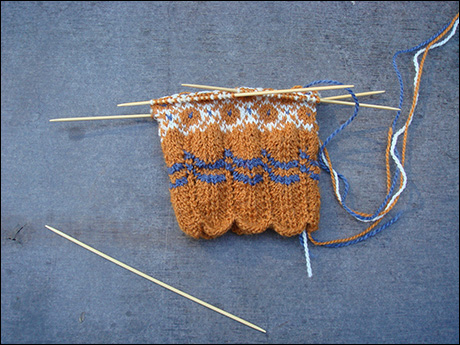 I need the first signs of autumn to start the yearly mitten production. The first pair for this season is the Paistu mittens from Piecework magazine, the July-August 2006 number. The pattern is by Nancy Bush, and she tells they are adapted from Aino Praakli's Kirikindad II book*. They take their name from the parish of Paistu near Viljandi in south central Estonia. Aino Praakli's pattern is adapted from a pair of gloves sold to the Estonian National Museum in 1925. The gloves had been found in the bottom of a chest and are believed to have been part of a bride's trousseau, likely made about 50 year before they were sold to the museum.
I'm knitting the mittens with my all time favourite mitten yarn, Vuorelma's Satkieli, in gold, natural and old blue (the colour numbers are 199, 003 and 966), on bamboo needles 2mm. I have a gauge of 40 stitches to 10 cm.
I have a slight feeling that there is an error in the pattern, and I have written the editors of the magazine to ask. There are two kinds of decreases, one for the top of the mitten that is called two-stitch decrease, and one for the thumb called one-stitch decrease. The one-stitch decrease is identical with the one-wick decrease Nancy describes in Folk knitting in Estonia. The two-stitch decrease described in the pattern is almost identical to the one-stitch decrease, and it can't produce two parallel stitches as the decreases on the picture. There is a two-wick decrease in Folk knitting, perhaps this was the one intended? It will produce a row of two stitches. I look forward to see what the editors say in answer to my question.
*Aino Praakli's book is fairly new, came out 2005, by the Estonian National Museum. I wish I had it and other native books about Estonian mittens and gloves.