Veste asymétrique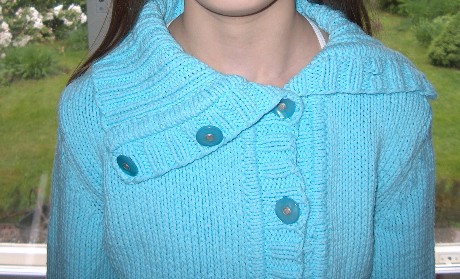 Får jag presentera, Veste Asymétrique!
May I present, Veste Asymétrique!
Projekt detaljer: Veste asymétrique, modell nummer 23 ur Phildar Enfants Été 2006.
Storlek: bredden 12 år, längden 14 år.
Garn: Phildar Aviso, 60 % bonull och 40% akryl.
Stickor: 4,5mm och 5 mm.
Masktäthet: 17 maskor och 22 varv = 10 x 10 cm.
Project details: Veste asymétrique, modell number 23 from Phildar Enfants Été 2006.
Size: width 12 yo, length 14 yo.
Yarn: Phildar Aviso, 60 % cotton, 40% polyacryl.
Needles: 4,5 mm and 5 mm.
Gauge: 17 stitches and 22 rows = 10x10 cm.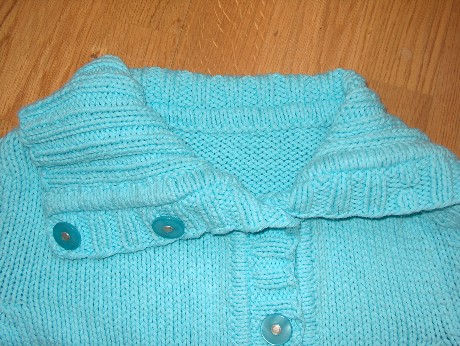 Den här modellen har en detalj som gör den speciellt prydlig. Såväl kragen som knapp slåna har påsydd kant på både inre och yttre sidan. Eftersom kragen är osymmetrisk och insidan av den syns ordentligt även om den är knäppt ända upp till hakan är den här detaljen av yttersta vikt för att ge ett finslipat slutresultat.
This model is designed with a detail that gives it a very neat finish: both the collar and the button bands have a knitted band that is sewn on on both the right and the wrong side. Since the big asymmetric collar shows off quite a bit of the inside is this detail of importance for the end look.
På det hela taget en mycket välplanerad modell. Jag är inte stormförtjust i Phildar Aviso, jag måste anstränga mig mycket för att hålla de aviga varven tillräckligt spända. Tyvärr glömmer jag mellan varven att jag ogillar garnet, och lovar på nytt och på nytt att sticka i det. Jag har hört att Rowans All Seasons cotton skulle vara ett perfekt substitut, synd att jag bara kom ihåg det för sent igen.
All in all a very well designed model. I'm not overly keen on Phildar Aviso, I have a problem keeping the purl rows tight enough, but I tend to forget this between knitting with it, and then, when my hands are hurting in a new project I do remember it. I have been told Rowan All Seasons cotton would be an almost perfect substitute. I'll try to remember it to next time.