An old and a new project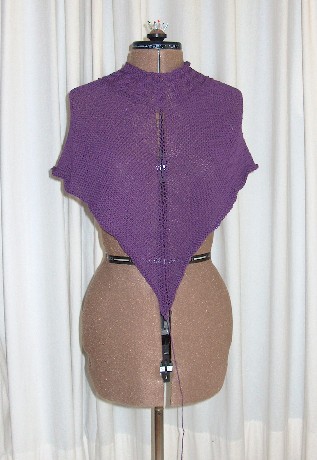 Det har varit en bråd vecka, och jag har inte hunnit varken sticka eller blogga mycket. Jag skall resa till Danmark om två veckor, men måste ha en forskningsplan färdigtskriven och godkänd före det, vilket är orsaken till ineffektiviteten på stickfronten.
Det jag har åstadkommit den senaste veckan (det är faktiskt nästan en vecka sedan jag postade senast) är ett stort framsteg på Hannas poncho, det saknas bara fransar i kanten och den är färdig. Före det måste den dock pressas, och trådarna fästas. Övre delen består av en 6 m fläta som mot hals ringningen går över i en 2r 1a ribbstickning, nedre delen är A Very Harlot Poncho.
It has been a busy week, and I have had neither time for much knitting nor blogging. I'm going to Denmark in a couple of weeks, and have to have a research plan written and ok:ed by then. That's the reason for this knitting inactivity.
What I have got done is a huge progress on Hanna's poncho. It only misses the fringe, but before that I have to weave in the ends and block it. The upper part is a 6 st cable that goes over in a 2 k 1 p ribbing, the lower part is A Very Harlot Poncho.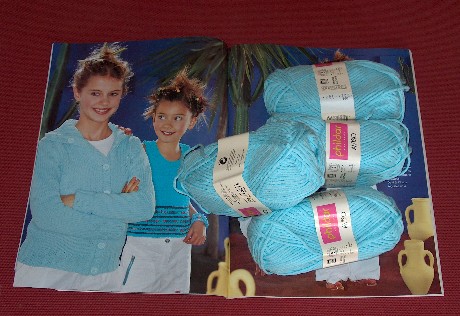 Jag har också startat ett nytt projekt. Jag brukar sticka en tröja till barnens kusin i födelsedagspresent. Hon väljer själv modellen, och leverans sker kring den 29 maj (då hon har födelsedag). I år valde hon Veste asymétrique ur Phildar Enfants Printemps – Été 2006. Modellen stickas i Phildar Aviso och färgen hon valde är samma som på bilden – Lagoon. Jag insåg att jag börjar, på grund av nämnda utlandsresa få bråttom att sticka den klar, så jag högg tag i en ärm, och beslöt att den får fungera som en jätte modell lapp – inget extra stickande här. Stickfastheten stämmer perfekt, så det behövdes inget repande. På bilden är jag en centimeter ifrån intagningarna för ärmkupan.
I have also started a new project. I have, like earlier years, asked my children's cousin to choose a model of her liking to be knit up for her birthday. This year was her choice Veste asymétrique from Phildar Enfants Printemps – Été 2006. The yarn is Phildar Aviso in the same colour as the picture, Lagoon. I suddenly realized that I don't have much time to knit, due to said travel abroad, so I started with a sleeve, and decided to look at it as a big gauge test. I have knitted before with Aviso, and my gauge was still the same, no frogging here. I have almost reached the decreases on the first sleeve.
Svärmor fyller jämna år i slutet av augusti, och har önskat sig en tröja med knappar fram. För att få inspiration för projektet köpte ja den här boken. Om någon har erfarenhet av modellerna, berätta gärna.
Mother-in-law is having a big birthday in August, and her only wish is a cardigan. To get inspiration I bought this book. Does anybody have experience with the models?