Schhhhhhhhhh, it's a secret!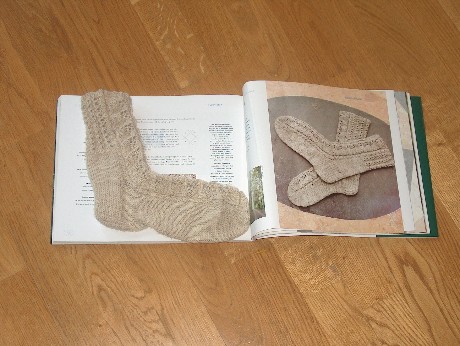 Unblocked socklaces. Sock number one.
Min mor fyller år i maj. För att inte upprepa den något pinsamma situationen från min fars födelsedag, då födelsedagsvantarna (de med ekorrar) blev färdiga nästan tre månader efter födelsedagen, bestämde jag mig att vara ute i god tid. Då jag visade boken A gathering of lace åt min mor blev hon väldigt förtjust i ett sock par av sock- och vant drottningen Nancy Bush. Modellen heter Birch Leaf socks, och har fått sin inspiration av de otaliga björkar Nancy Bush har sett i Estland. Eftersom björken är något av ett nationalträd här i på andra sidan Finska viken också, och ett träd min mor annars också beundrar fann jag namnvalet passa väldigt bra. Jag stickar på stickor 2,5 mm och garnet är Schoeller-Stahls Fortissima Socka. Klicka här för en bild av löven framifrån! Min mor behöver en lite större socka än jag, varför den här sockan inte sitter perfekt på mig. Den skall inte göra det. Jag hoppas få den andra sockan klar den inkommande veckan, före garnet till en assymetrisk tröja jag har beställt anländer. Barnens kusin har också födelsedag i maj, och har själv valt en tröja (eg. kofta, men så säjer vi ju inte i Finland, och cardigan låter töntigt på svenska) ur Phildars vårkatalog.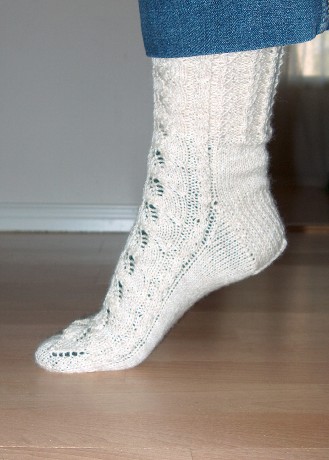 My mum is having birthday in May. To not repeat the disaster that happened when my Dad's squirrel mittens were finished three months after the birthday I decided to start these socks in time. Mum had expressed her liking of the Birch Leaf socks by sock-and mitten queen Nancy Bush in A gathering of Lace earlier, so the pattern choice was easy. Nancy Bush tells she has got the inspiration for these socks from all the birches she has seen in Estonia. Since birches are very common here in the South of Finland as well, and a favourite tree of Mum, I found the pattern even more suitable. I'm knitting on 2,5 mm needles and the yarn I Schoeller-Stahl Fortissima Socka. Click here if you want to have a look at the leaves from the front. Mum needs a slightly bigger sock than I, so the sock doesn't fit me perfectly. They are not supposed to. I hope to be able to finish the second sock before the yarn for an asymetrical cardigan I have ordered will arrive. The cousin of my kids is having birthday in May too, and has selected a Phildar model. Busy knitting days ahead!