Family Sock Challenge, update 2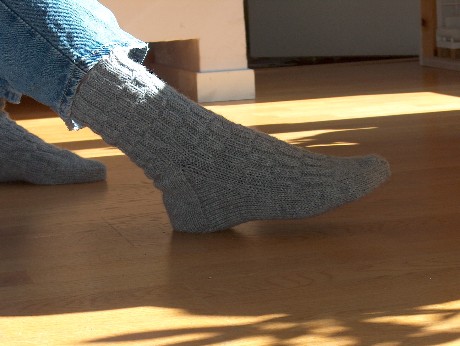 Gentleman's socks with sort of basketweave stitch

Par nummer tre i familjesockutmaningen är färdigt! Det är fråga om makens första sock par, stickat i Novitas Sju bröder garn på stickor 3 mm. Det gick åt nästan hela 150 gram, se här hur lite som blev över! Mönster från Nancy Bushs bok Knitting vintage socks, modell Gentleman's fancy socks. Modellen är dock stickad med mycket tunnare garn.
Sock pair number three in the Family Sock Challenge is ready for the world! These are knitted for my husband with NOvita's Seitsemän Veljestä yarn and needles 3 mm. They took almost 150 gram yarn, look here what was left when the second sock was finished! Pattern Gentleman's fancy socks from Nancy Bush's Knitting vintage socks. The pattern is knitted with a much thinner yarn, so this is an application of Nancy's pattern.




Bathing in the sun

Och följande par har kommit så här långt. Det här är sockor för den yngre dottern som är nio år. Inga sofistikerade eleganta sockor för henne, utan fulla med bus! Den första är färdigt stickad, men det fattas ännu en liten pärla i toppen av vart "antenn". Socka nummer två har jag fått just förbi tårna. Jag stickar de här från tårna upp på grund av mudden, med korta varv både i tårna och i hälen. Garnet är Regia Cotton, och stickorna 2 mm.
The next pair is already on the needles. The first sock is finished, and waiting for beads to be attached to every i-cord. These are being knitted for my younger daughter who is nine. No sophisticated lady like socks here, no. Sock number two is just past the toes. I'm knitting the socks from the toes up because of the i-cords, and using short rows both in the toe and the heel. The yarn is Regia cotton, and needles 2mm.