Finished Bayerische socks alert!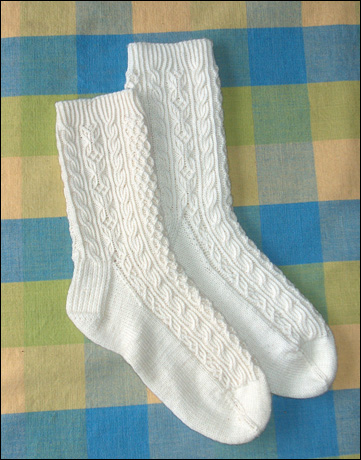 Yes I finished the Bayerische socks in the beginning of the week, washed them and blocked them. And here they are! It has been a time consuming project, mostly because my inability to memorize chart D, but also because all the cabling and the twisted stitches, one has to pay close attention to what one is doing. But it has been well worth it.


The free pattern by Eunny Jang is well written, and has the most beautiful heel I've even knitted. First, the cables and travelling stitches are all going down in the striping of the heel, it's a beautiful continuum, second the heel in itself. I'm not a big fan of the short row heel, even if I'm perfectly able to make beautiful such, for me is the heel flap/gusset heel the favourite. And Eunny's version of the heel ( Click for close up! ) is the smoothest and best fitting I've ever made.

Project details:
Pattern: Bayerische socks by Eunny Jang
Yarn: Regia Silk in cream (002), about 110 grams.
Needles: 2 mm metal dpns.
More: I made four pattern repeats in the leg part and four and a half in the foot part of the sock.
In order to celebrate being close to the finishing line, and again, when passing the finishing line I did cast on for two new projects. They are both stash empting projects, these and 300 grams more before I can allow myself to order yarn for Eunny's Venezia sweater. First up is Sharfik by Grumperina. The yarn is Jaeger Extrafine Merino dk knit on 4 mm needles. This will be a birthday present for my father, not a father's days present as I first did plan. The time is running out for that (I promise I'll show you the time hog at some other occasion, but it's not a knitting project). I have three balls of the yarn and here is the second ball almost knitted up. This has been my commuter project, and is thus not advancing very fast.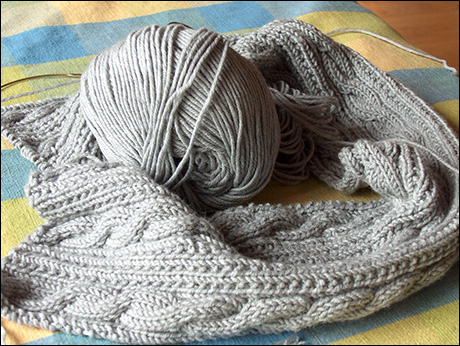 Number two on the list is Fifi, a triangular shawl designed by Johanna Pajakoski for the Finnish webknitmagazine Ulla. I had two balls of Rowan Linen Drape in this pale lilac colour left, enough for a small shawl thing for my younger daughter. I have knitted the first ball (if one can call the things for balls when they are winded up around the paper things), and has started the second, using 3,5 mm needles. This should be finished soon!
And a last thing for this entry: Have you seen these lovely socks by Teresa? As one commenter said: Oh, my paws and whiskers!