Somebody will have warm hands this winter!
Sofia's basket weave mittens are finished and blocked. They were dry just in time for her to take them to school this morning, and the modelled pictures are taken in the first morning light today.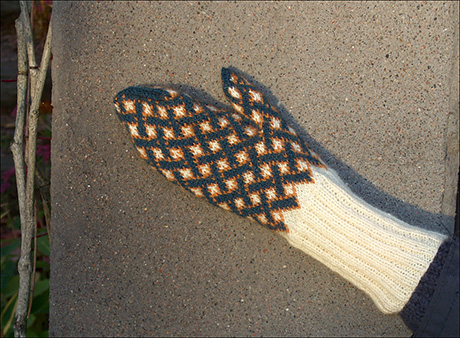 What about a close up? Click for it!
Project details:
Pattern: The colour pattern is from Eeva Haavisto's book Sata kansanomaista kuviokudinmallia, this is again a pattern she tells us is coming from Jalasjärvi in Pohjanmaa. The pattern indicates that the flatter top decrease is to be used, I followed Mary Olki's directions from the book Kirjokintaita ja muita kansanomaisia neuletöitä. In other aspects is the mitten my own basic mitten.
Yarn: The mittens are inspired by the beautiful blue-green Vuorelma Satakieli yarn I got from my secret pal. The golden and off white are also Satakieli.
Needles: 2,5 mm.
Other: The top of the mittens are decreased with a two stitches band, and ended with the three-needle bind off method (see my earlier post on how to do this). The thumbs are also decreased with a two stitches band, but finished in the ordinary way with treading the last eight stitches on the yarn, not binding them off.
Mittens blocking on the ironing board
Do you block your mittens? I do. I use mitten blockers I have made from those metal hangers you get with clothes from the dry cleaner. I found a tip on Saartje's site for making sock blockers this way. Since colour work looks best when blocked, I decided to make mitten blockers the same way. Depending on the size of the mitten is the blocker easy to enlarge or make smaller, the wires are soft enough. You can see the blockers peaking out at the end of the mitten rib in the picture above. Give it a try! Your mittens will look even more fabulous when blocked.
See all entries on Basket weave mittens.