Sock summary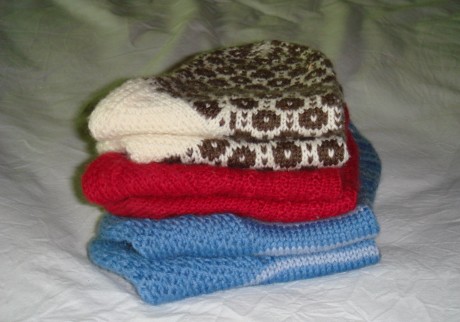 Hettan som vilar över Finland till trots har jag klarat av att göra en slutspurt på sockfronten! Tre par färdiga, av vilka visserligen Johns sockor redan presenterats här, men utan projekt detaljer.
In spite of the heat weave that is steadily positioned over Finland right now have I finished two more pairs of socks. John's socks have been presented, but without project details and modelled pictures.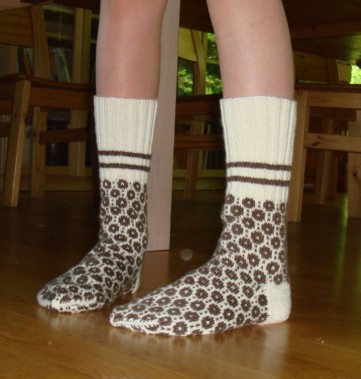 De första sockorna jag väljer att presentera är Tiits sockor. Jag stickade Tiits sockor till mig själv, och detta innebär att jag har stickat mig igenom min Family sock challenge. Alla medlemmar i min familj har under vårens lopp fått ett par sockor planerade speciellt för dem.
Projekt detaljer: Tiit's socks ur Nancy Bushs bok Folk knitting in Estonia.
Garn: Regia silk, 55 % ull, 20 % silke och 25 % polyamid, sammanlagt under 100 gram.
Stickor och masktäthet: 2mm, 40 maskor och 41 varv gav 10x10 cm.


The first socks I present are Tiit's socks. I decided to knit them for myself, and this marks also the end of my Family Sock Challenge. I have during the spring knitted a pair of socks for every family member. Thank you Theresa for the great idea!
Project details: Tiit's socks from Nancy Bush's book Folk knitting in Estonia.
Yarn: Regia Silk, 55 % wool, 20 % silk and 25 % polyamid in natural white and brown, all in all under 100 g.
Needles and gauge: 2mm, 40 stitches and 41 rows make 10x10 cm.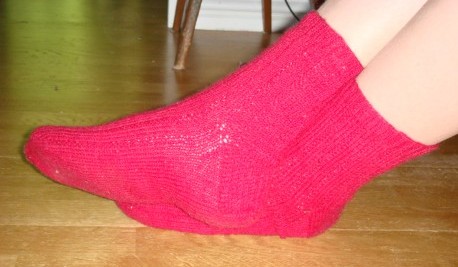 Det andra paret är min yngre sons sockor. De blev färdiga redan för en tid sedan, men här kommer projekt detaljer. De var det nästsista paret i Family Sock Challenge. Projekt detaljer: John's sockor efter eget mönster. Garn: Fortissima Socka 75 % ull, 25 % polyamid i klarrött ca 60 gram. Stickor och masktäthet: 2,5 mm, 29 maskor och 40 varv gav 10x10 cm.
The second pair is my younger son's socks. They have been presenter here before, but here are the details. They are the second last pair in the Family Sock Challenge.
Project details: John's socks, own pattern.
Yarn: Fortissima Socka, 75 % wool, 25 % polyamide, about 60 grams in red.
Needles and gauge: 2,5 mm, 29 stitches and 40 rows gave 10x10 cm.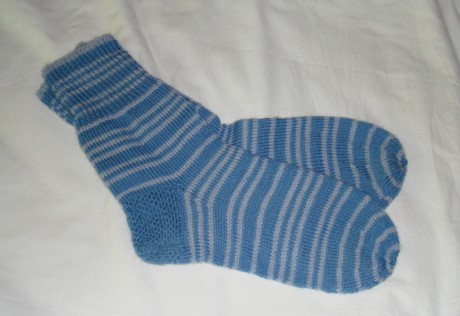 Det sista paret är Hiiumaa sockorna. Sockorna kom till som en test av Vuorelmas garn Veto, och utföll till full belåtenhet.
Projekt detaljer: Hiiumaa socks ur Nancy Bushs bok Knitting on the Road.
Garn: Vuorelmas Veto, 85 % ull, 15 % polyamid, 100 gram av färg 639, 50 gram av färg 608.
Stickor och stickfasthet: 2,5mm, 28 maskor och 28 varv 10x10 cm.
The last pair is the Hiiumaa socks. These socks were born from the desire to test Vuorelma's sock yarn Veto.
Project details: Hiiumaa socks from Nancy Bush's book Knitting on the road.
Yarn: Vuorelma's Veto 85 % wool, 15 % polyamide. 100 g of colour 639 an 50 g of colour 608.
Needles and gauge: 2,5 mm, 28 stitches and 28 rows made 10x10 cm.