Finishing party in red
The red pile is finished. The bear shawl Fifi III is already shown, and here is the rest.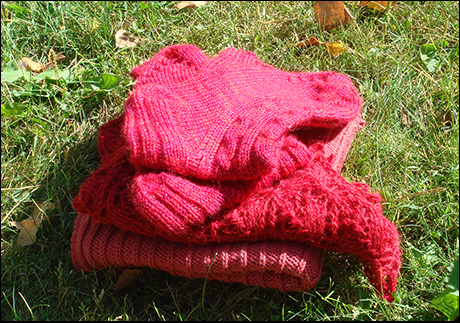 First in the pile are the socks. These socks have a, for me, new heel, and a new toe. The heel is a combination of short rows and 2ktog: s, and incredible comfortable to wear. I didn't follow Nancy Bush's directions for the short rows, since they would have resulted in a row of holes (this was the intention behind the pattern), and to me they didn't look good, just like ill-done short rows. I also made the 2ktog: s on the right side as SSK: s, in order to create symmetry. The toe is done with 2ptog: s in triangular shapes, and is comfortable, but a bit weird looking. All in all a very nice pattern.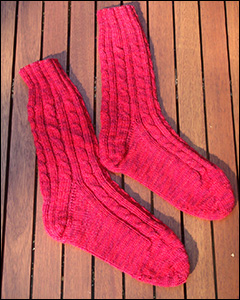 Projects details: Rib and cable socks by Nancy Bush for Interweave Knits Fall 2005.
Yarn: Novita Nalle Colori in red, less than one ball (to be exact 102 g).
Needles: 2, 5 mm.
Gauge: 29 stitches and 38 rows to make 10x 10 cm in stockinette.
Alterations: Short rows without holes, symmetrical decreases.
See all entries on Rib and Cable Socks



The next on in the pile is the Flower basket Shawl. With my yarn and needles I got a pretty small shawl, even smaller than the picture in the magazine. It is very soft, and the pattern is easy to knit. My yarn choice was perhaps not the most genial; I think the alpaca I used is a bit too thick. But it is a lovely yarn, and the shawl is very soft and fluffy.
Project details: Flower Basket Shawl by Evelyn A. Clark for Interweave Knits Fall 2004.
Yarn: Drops Alpaca, 1, 5 balls.
Needles: 4, 5 mm.
No alterations.
See all entries on Flower Basket Shawl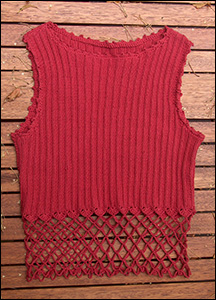 And at the bottom is Flirty. I'm still a bit undecided when it comes to the colour. I would like it brighter, now it a something close to brick red, and I feel I'm fading away in it. I know a dye bath would fix it in no time, still I hesitate.
Project details: Flirty by Sasha Kagan for Rowan 37.
Yarn: Rowan 4ply cotton, less than 3 balls in shade 132 (the pattern said 4 of main colour + 1 for the edges…)
Needles: 3mm, crochet hook 2, 5 mm.
Gauge: 28 stitches and 38 rows in rib to make 10 x 10 cm.
Alterations: I changed the crocheted edging and omitted the beads.