Why, it's Elfin!

Äntligen, Elfin! Elfin blev alltså färdig redan under påsken, men på grund av det väldigt gråa och trista vädret fick jag inga bra bilder av Elfin före idag. I går var det fint väder, men eftersom jag tillbringade dagen med att städa i trädgården blev det inga bilder tagna.
På det hela taget gillade jag att sticka Elfin. Elfin innebär visserligen att man lägger upp over 3500 maskor inalles i Kid Silk Haze! Dessa minskas ner till nästan 900 maskor för de olika kanterna! Detta är ett något tålamodsprövande arbete som dessutom tar på ögonen. Rekommenderas inte för de som vill bli snabbt färdiga. Att sticka Felted Tweed går däremot snabbt undan. Som helhet gillar jag mönstret, men jag är inte förtjust i systemet med hakar och öglor. Det är stört omöjligt att få kanterna att sluta sig nätt mot varandra, och att hyskorna inte öppnar sig när man rör sig (är det härifrån namnet kommer, man måste röra sig älv likt på nåt sätt för att det skall hållas i ihop?) Jag har redan köpt en dragkedja som man kan öppna i båda ändorna, och som skall ersätta hakarna.
Projekt detaljer: Elfin från Rowan 34, design Kim Hargreaves.
Garn: Rowan Felted Tweed (ca 6 nystan) och Rowan Kid Silk Haze (mindre än 2 nystan).
Stickor: 3,25 mm och 3,75 mm.
Ändringar: Kort ribbning nere och tubular cast on.
Finally, Elfin! I got Elfin finished during Eastern holidays, but due to the very grey weather conditions had picture taking to wait. It could have been done yesterday, but I spent the whole day working in the garden, and didn't get anything done picture wise.
Elfin requires you to cast on over 3500 stitches in Kid Silk Haze, and then gradually decrease them to –only- almost 900. This is not a job for those who want to finish fast! Felted tweed is a fast knit, and a lovely yarn. On the whole is the pattern satisfying, except the system with hooks. It is totally impossible to get the hooks to hold (or do you have to move in a special elfin like way to make it, hence the name?) I have already bought a zipper that can be opened in both ends, and will substitute the hooks with that one.
Project details: Elfin from Rowan 34, design by Kim Hargreaves.
Yarn: Rowan Felted Tweed (about six balls) and Rowan Kid Silk Haze (less than two balls).
Needles: 3,25 mm and 3,75 mm.
Alterations: Shortened ribbing and tubular cast on.
Och några bilder för att visa garnets väg från groddammen till Elfin:
And some pictures to show how the yarn evolved from the frogpond into Elfin: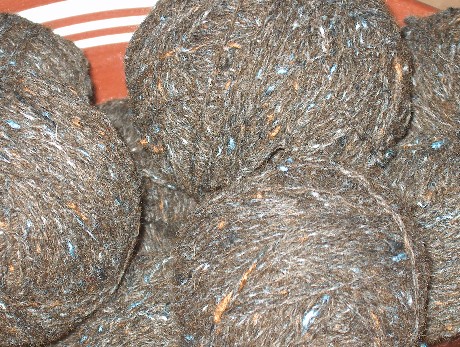 Ett lyckat slut för vad som var Charm!
A beautiful end of what was Charm!