Attention, attention, dragon feet!
Vi kom hem idag efter en tre dagars vistelse i Åbo skärgård. Vädret var fint, och vi var mycket ute, men det blev ändå en del stickat både på mornarna och kvällarna. Men, före vi reste iväg fick jag klart Johns draksockor. De var dock ännu fuktiga när vi reste, så jag hann inte visa upp dem.
We came home today after a three-day trip to the archipelago of Turku. The weather was beautiful and we were out most of the days, but I got quite a lot knitted in the mornings and the evenings. But, before we left for the archipelago, I managed to finish John's dragon socks. They were still blocking when we travelled away, but were dry and in photo shape when we came back.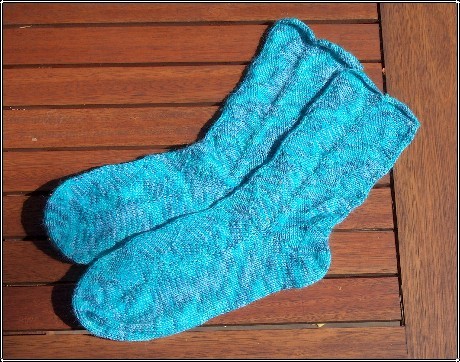 Projekt detaljer: Here There Be Dragons Socks av Theresa Walunas.
Garn: Novita Nalle Colori
Stickor: 2 ,5 mm.
Bonus: Jag lärde mig ett nytt sätt att göra en häl med korta varv.
Project details: Here There Be Dragons Socks by Theresa Walunas.
Yarn: Novita Nalle Colori.
Needles: 2 ,5 mm
Bonus: I learned a new way to make short row heels.



Theresas monster är mycket bra uppgjort, och medförde inga som helst problem. För att klara den nya hälen med omslag måste jag konsultera den bifogade länken till en fotoserie, men det var inget problem, det var en inlärningsprocess. Den mönstrade hälen och tån mycket elegant planerade.
Theresa's pattern is very clear, and gave me no problems. I needed to look at the link to the photo tutorial in order to make the yo- shortrow heel, but that was not a problem, just a learning process. The patterned heel and toe are both very cleverly constructed.
Klicka här för alla inlägg om drak sockorna!
Click here for all entries on the dragon socks!