Modelled Swallowtail shawl pictures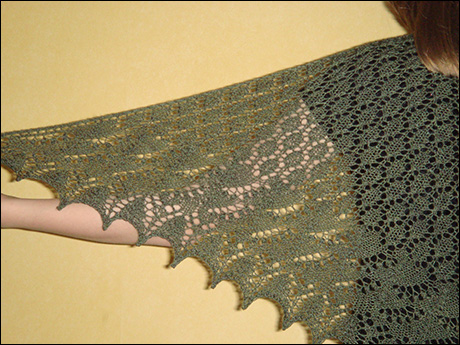 The swallowtail shawl was finished last weekend, and it came trough blocking with honour. It passed the quality check, and will be given to the recipient tomorrow. I talked my older daughter (bribed…) into modelling the shawl for me before I'll dig trough my inventory of gift wrappings and small parcels and fix it up for tomorrow.
Project details:
Patter: Swallowtail shawl from Interweave knits Fall 2006, design Evelyn A. Clark.
Yarn: Wetterhoff Sivilla, 70 % wool, 30 % silk, about 75 grams.
Needles: 4 mm Addi bamboos.
Alterations: None.

The pattern is well written and in my opinion fairly easy. The nupps are tricky, but not difficult. Using a small crochet hook help making the P5tog. One has only to be careful and push the hook through all the 5 yos and stitches, and not to take the yo not belonging to the nupp as one belonging. I do admit that I more than several times wished all cleaver lace designers and the inventor of the nupp to a place closer to hell than heaven, but when looking at the finished shawl I take back all those thoughts. The nupps are very interesting as element, and lining them up as a lily of the valley results in a beautiful lace pattern. I think the yarn I have chosen is very suitable for this kind of shawl, but I'm a bit surprised I didn't need more yarn than about 75 grams. All in all a very nice shawl to knit, and I highly recommend the pattern.