Muuttolintuset - finished!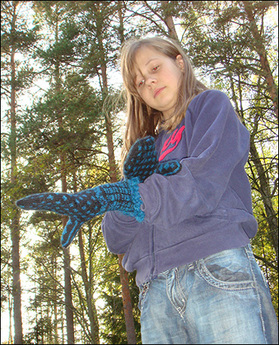 The Small migrating birds mittens, or Muuttolintuset in Finnish, are finished. All in all a pleasurable knit. The fringe, done last after the mittens were knitted from the fingers down to the cuff, is knitted according to the instructions in Anna Zilboorg's book Magnificent mittens. When I started these mittens I was a little bit bored with always doing things the same way, and I therefore decided to do it upside down. These mittens should be knitted from the cuffs up, using the fringe I earlier have done a tutorial to. But it was fun to for once doing in other wise, and now I'm very at ease with knitting the traditional way again.
Project details:
Pattern: Muutolintuset from Jalasjärvi, from Eeva Haavisto's book Sataa kansanomaista kuviokudinmallia.
Yarn: Black Novita Wool, teal Drops Alpaca (double in the ässänväärä and cuff)
Needles: 2, 5 mm dpns.