John's finished mittens
John told me there is a price for receiving a hand knitted item: you have to model it before you're allowed to use it. How right he is. He also thought it was a pretty small price to pay. Look at the happy young man: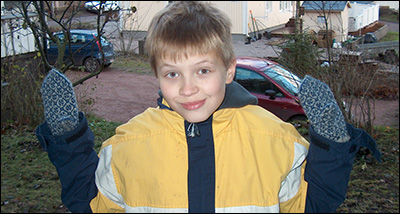 Serious, who, me?
The mittens fit very well, and the thinness of the yarn in combination with the thin needles produced a quite firm fabric. The cuff could have been a bit longer, and could have been knitted on one number smaller needles. The rib is 1 knit, 3 purl, and there is not very much elasticity in the cuff, and I suspect it can even be wider when in use. The top decreases are made as a three stitch band, where the middle stitch is throughout knitted in grey, and the edge stitches in blue. The thumbs are finished with a single stitch band, very much like what I made on the Paistu mittens. The pattern goes up in the thumb, and on the back of the thumb is the same pattern.
The pattern is from Eeva Haavisto's book, and is according to her notes from Kotka, a city on the coast east of Helsinki. The mitten patterns found in this area are very often in style similar to the Estonian mittens, and it hardly comes as a surprise, taking into consideration the ancient commercial contacts between Estonia and this area. The pattern is also one I think can be found in several other areas around the Baltic see. But I think it is very pretty in it's simple lines, and John is very pleased.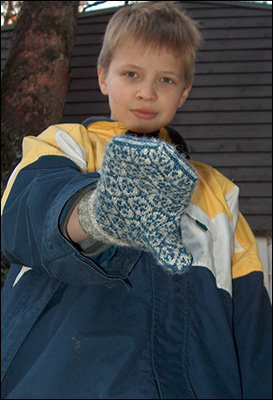 Project details:
Pattern: Eeva Haavisto's, from the book Sata Kansanomaista kuviokudinmallia.
Yarn: Isager Tvinni, a 100 % 2 ply merino wool.
Needles: 2mm dpn.