Finished Bunny mittens
Hanna's Bunny mittens are finally finished, blocked, and, in the early morning hours, modeled and pictured. I would have liked to take the pictures in daylight, but Hanna insisted on wearing them to school, and, when your child insist on wearing your hand knitted items, then you capitulate. The pictures are taken with flash, and looks like that too.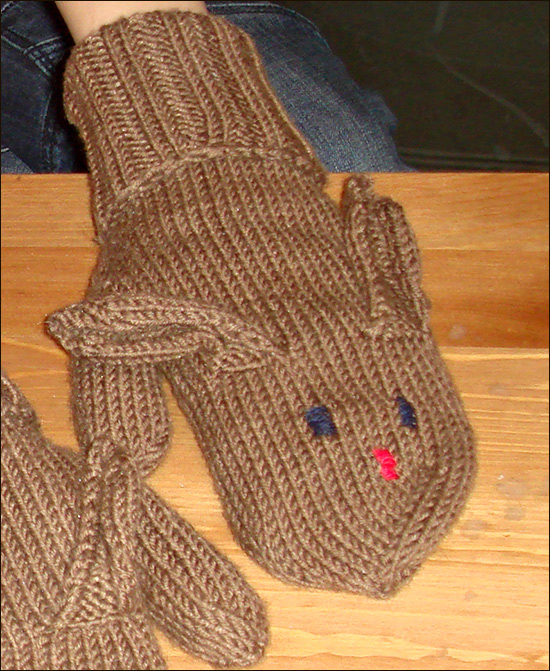 Project details: Hanna's Bunny mittens
Pattern: Loosely based on the red mittens in Red Mittens by Toshiyuki Shimada in the book Northern European Knit Accessories 北欧のニットこものたち (loosely based because I simply don't read Japanese well enough to understand the directions completely).
Yarn: Sirdar Sublime 75% merino, 20% silk and 5% cashmere (Can it get any better? The yarn is lovely and I'll use it again).
Needles: Inox bamboo 3,5 mm dpn
Modifications: The ears are made loosely according to the directions from craftzine.com. I did cast on 7 stitches, and increased until I had 12 stitches.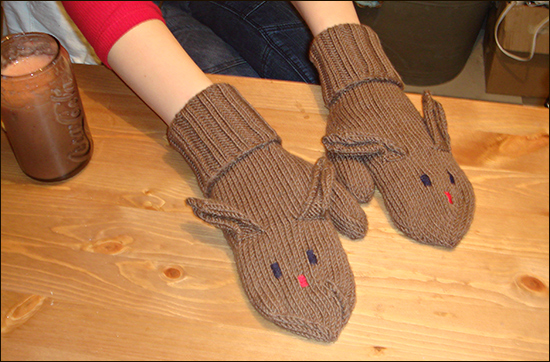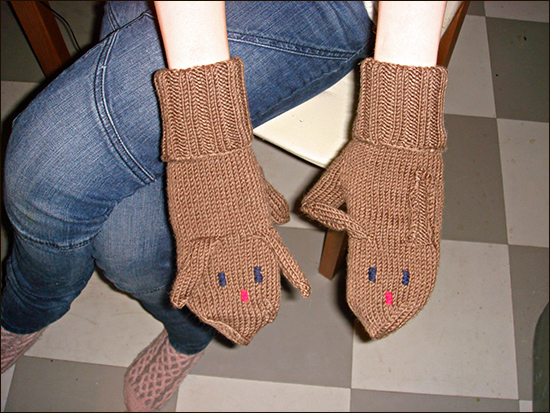 Look, she is wearing Chuck's cabled socks, still going strong!

About Stockholm: I, the girls and the dogs moved to Stockholm in July last year. We have been living in Bromma, which is a part of Stockholm, and more exactly, in lovely Södra Ängby. The area consists of over 500 houses, build in the 1930's in pure functionalism. They are like sugar pieces dropped in the woody landscape. It's fascinating walking in the area, and incredibly beautiful (if you, like me, see beauty in the style).

An old pine near close to our house did break in the storm during Christmas

The house in Södra Ängby is rented. We wanted to explore the area more before we decide where we will settle down, and in the end of last year we found "our" house. It's a small house, not far from where we are living now, in an area also buit in the 1930's. The houses are like the Finnish "Rintamamiestalo", but were built ten years before the Finns started with the same concept, based on the Swedish model. The idea was enable people to build their home by them self, based on a standardized model. The houses in Norra Ängby are of twelve different models, and of them are seven common. A street was always designed with the same model of houses, and the area is thus very common in style. The yards are extremely well kept and the houses neat. It's a little bit like walking in one of the children book author Astrid Lindgrens's books.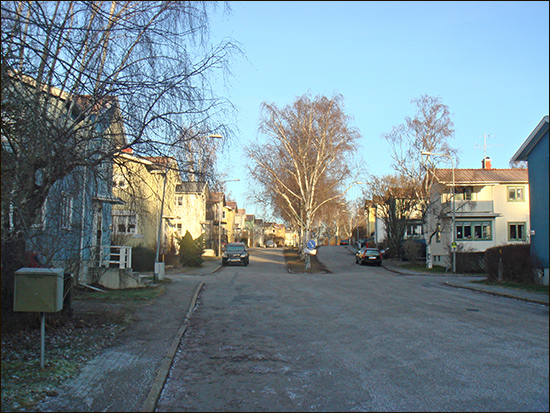 Our new surrondings.