First FO for this year
Årets första färdiga projekt är en halsduk. Jag fick garnet och stickorna av min vän Elizabeth, som har en butik som säljer garn, ull, fibertillbehör samt barnleksaker på ön Kodiak utanför Alaskas kust.
Garnet är Mountain colors hand-painted yarn, en blandning av 50 % alpacka och 50 % ull, i färgen Rosehip. Jag stickade upp halsduken på de vackra trästickorna, storlek 5 mm. Stickfodralet som följde med stickorna är i särklass det vackraste jag sett.
Mönstret till halsduken hittade jag på den tyska tidningen Brigittes nätsidor. Mönstret var gjort för två mönster rader, men jag utvidgade det till tre. Jag ville ha ett mönster som skulle visa de olika färgschatteringarna i det handfärgade garnet. Mönstret påminner dessutom om fisk stjärtfenor, vilket jag finner passande då Kodiak var Elizabeth bor är känd för sin fiskerinäring.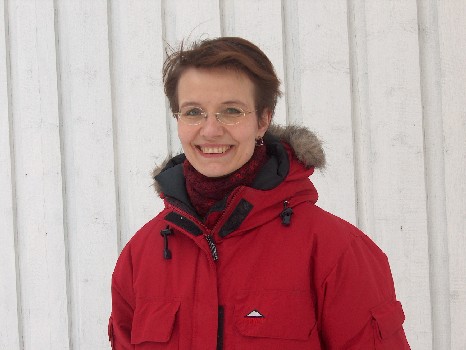 Halsduken in action
The first finished project for this year is a scarf. I got the yarn and the needles from my friend Elizabeth, who is keeping a fibre shop in Kodiak, the emerald island of Alaska. The yarn is Mountain colors hand-painted yarn in the colour Rosehip, a blend of 50 % alpaca and 50 % wool. I knitted the scarf on the beautiful needles that I also got from Elizabeth, size 5mm. The needle case is very stylish, isn't it? The pattern is from the German magazine Brigitte's web page, and reminds me of fish-tails, very suitable I think, since Kodiak is a well known fishing community. The pattern had only two repeats, I added a third to get the scarf wide enough.