Finished mittens
Ekorrvantarna är färdiga! De överlämnades i dag till mottagaren, och satt som gjutna.
The squirrel mittens are ready! Here on the hands of the receiver.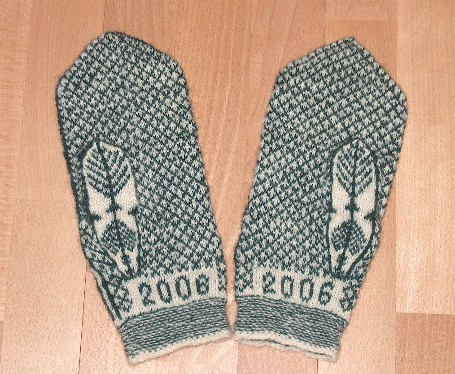 Modellen är hämtad av en gammal Dalslands vante. Dalsland ligger i Sverige, norr om Göteborg vid stranden till Vänern och nästan gränsande till Norge. Dalsland är i dag känt för sin vildmark, och goda rekreationsmöjligheter. Vill du läsa mer om Dalsland, se här och här. Vanten har den för Sverige och Norge typiska kiltummen, medan finska vantar vanligen har den även i Estland använda raka tummen utan kil. Mönstret liknar även mer de norska mönstren än de man finner i Finland och Estland.
The model for the mittens is taken from an old pair made in Dalsland in Sweden. Dalsland is an area situated north of Gothenburg, close to the border to Norway. Dalsland is known for among other things their wilderness. If you want to read more about Dalsland, look here (English link). The mittens have the for Sweden and Norway typical thumb, while Finnish and Estonian mittens usually have a straight stocking thumb without the wedge. I do also find the pattern on the hand of the mittens to be typical for the area.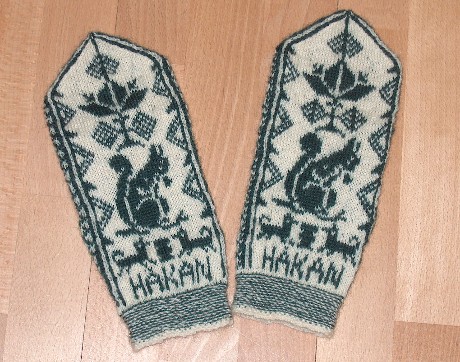 Projekt information/project details:
Mönster: Hämtat från Barbros sida (scrolla ner ganska långt).
Pattern: By Barbro (scroll down a bit).
Garn: Kamera, norskt 100% ull importerat av Tekstiilliteollisuus
Yarn: Kamena, Norwigian 100% wool, imported by Tekstiiliteollisuus
Stickor/needles: 2 mm
Jag har startat ett nytt projekt. Hur skulle det vara med en tjuvtitt? Huvudrollen spelas av Rowan Kid Classic och 4,5 mm stickor.
I have started a new project. Want to have a sneak peak? Starring Rowan Kid Classic and 4,5 mm needles.