FO: Deep V-Argyle Vest

The Deep V Argyle vest has made it to the finishing line. The vest is super comfortable to wear, and is not at all, as I had suspected, very warm. The DK thickness talked for a midwinter vest, but I have already used the vest, and it was just perfect.
Eunny's pattern is well written and easy to follow, even if I think there is a mistake in the earlier versions of the ribbing instructions. There is plenty of description in how to make steeks, perfect even for a perfect beginner to the world of steeks. Still, my yarn was too slippery, and I ended up securing the steeks with a seam. The neck edge and armhole ribbing is picked up in the first stitch of the steek, look at the picture, a very neat edge against the ribbing, isn't it! The hem ribbing continues in a beautiful manner into the edge stitches of the fake side seam. Eunny's small details makes knitting this vest very satisfying, you look at the patterns and almost say aloud a big Ahaaa!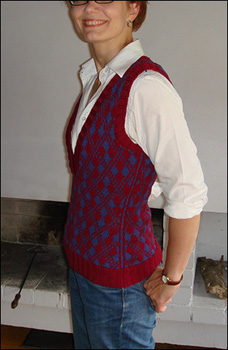 Project details:
Pattern: Eunny's Deep V Argyle vest
Yarn: Jaeger Extra Fine Merino DK in Raspberry and Blackcurrant
Needles: Addi bamboo 3,5 mm 60 cm and dpns
Gauge: 22 stitches and 32 rows to make 10 x 10 cm
Alterations: I started the ribbing at the hem with 1 knit, *2 purl, 2 knit*, not 1 knit, *2 knit, 2 purl*, as my pattern specifies. This order creats the ribbing you see in the picture above.
See all entries on Deep V Argyle Vest.
And check out this: Lotta at Knitter Nutter has started a Deep V in pale pink and dark, almost brown, plum. Way to go, Lotta!