It didn't work like a charm
Charms öde.
The end of Charm.
Charm funkade inte. Masktätheten verkade stämma, alla måtten var ok, men ändå hade jag tydligen stickat Charm för löst. När jag provade den satt den som gjuten. Eftersom stickprocessen hade medfört diverse smutsproblem beslöt jag att tvätta upp Carm innan jag tog den i användning. Lade tröjan för att torka plan på handdukar, utspänd till rätt storlek. Och sedan, pannkaka. Se nedan för en jämförelse med en tröja som har rätt storlek för mig!
Charm didn't work out. I had the right gauge, the measurements were right, but looks like I still had knitted Charm too loosely. It had perfects shape for me when finished, but I decided to wash it since I knew it had got some stains during the knitting process. I put it to dry flat on towels, not stretched at all. And look what happened! The fair cardigan is one that has the right size for me.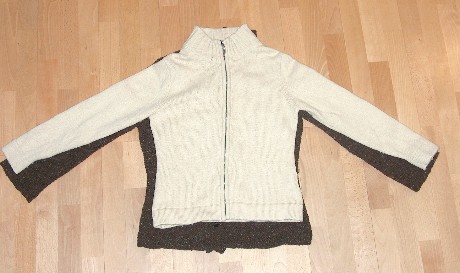 Mönstret instruerade att tänja på provlappen när man mäter masktätheten. Tydligen tänjde jag inte på den tillräckligt, trots att jag gick ner i stickstorlek ett nummer. Ärmarna skulle vara ¾ långa, men som synes har de tänjt ut till full längd. Och bredden har fått ansenligt med centimetrar till.
The pattern told one to stretch the swatch a bit when measuring. The problem is just to know how much. Looks like I didn't stretch it enough. The sleeves are supposed to be ¾ sleeves. And the body has got much more width than it had pre washing.
Eftersom jag hatar ha misslyckade projekt hängandes runt mig gick jag den radikala vägen fram. Det här är Charm idag. Jag skall ännu linda garnet på härvor och blöta det för att få det rakt. Visst är det ett vackert garn, med de guldfärgade och blåa fläckarna!
I took the drastic route, since I hate having projects that didn't work out hanging around. This is Charm today. I do still have to wind it into hanks and to wash it up to get the stitch memory out of the yarn. It is a beautiful yarn, look at those gold and blue parts!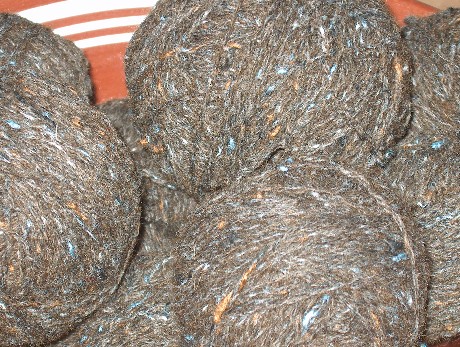 För tillfället är jag fullständigt fed up med alltid rätt stickning, varför detta underbara garn inte kommer att omvandlas till en ny Charm. I stället funderar jag på Elfin från Rowan 34, trots att jag vet att a) det är evigheter sedan alla stickade Elfin, b) Elfin är en av Kim Hargreaves mera onda påhitt, som inte stickas enbart av underbara Felted tweed, utan också består av ändlösa rader av Kid Silk Haze, säkert tusentals maskor. Men jag gillar Elfin, och modellen fick dessutom tummarna up av min man. Alltid ett plus när man viftar med kreditkortet för Kid Silk Haze!
I am right now totally fed up with garter stitch, so the yarn is not going to end up in a new smaller Charm. I have been thinking about Elfin out of Rowan 34, even if I know a) it's eons since everybody knitted Elfin, and b) Elfin is one of Kim Hargreave's more evil ideas, consisting of thousands of tiny Kid Silk Haze stitches in the ruffles. But I like it, and it got thumbs up from hubby, always a plus. Always a good thing when you are about to go buying Kid Silk Haze!
Det som jag hade tänkt ha tillsammans med Charm var Kim Hargreaves design Adorn, en härligt lurvig löskrage. Adorn fick jag klar utan mankemang, och silkesbanden är också i sydda. Jaeger fur är ett verkligt hårigt garn, se här och här!
My plan was to wear Charm with Adorn, an other design by Kim Hargreaves. Adorn got finished without any troubles at all. Jaeger fur is a very hairy yarn, look here and here!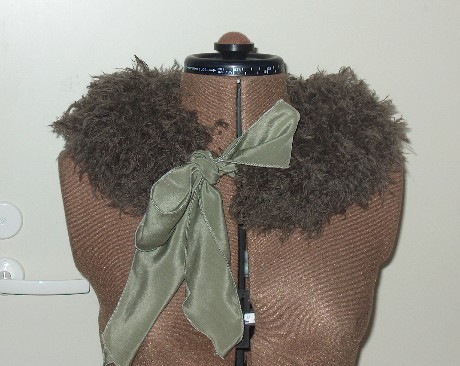 Projekt information/project details:
Mönster/pattern: Adorn by Kim Hargreaves
Garn/yarn: Jaeger Fur
Stickor/needles: 10 mm