Ladies and gentlemen, MIL's Cable-trim Jacket!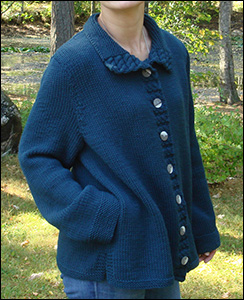 Hand knitted jacket – check!
Buttons in the front – check!
Pockets in the sides – check!
Everything is ready for MIL's 70 yo birthday, and it is still two weeks away. The program is fixed, and I managed to finish the present in time. No procrastination here, no. Or yes, actually I had the buttons for more than a week before I sewed them on. And then it took me one day more to get the pockets fixed. I decided to add thin fabric pockets, the yarn is so thick that knitted pockets of any kind would have been too heavy.




Projects details: Cable-trim Jacket from Classic knits for real women by Martin Storey and Sharon Brat.
Yarn: Jaeger Extra Fine Merino Chunky in the colour Teal, 20 balls.
Needles: 5mm and 6 mm.
Gauge: 16 stitches and 21 rows to make 10 x 10 cm.
Alterations: MIL had asked for a hand knitted cardigan or jacket, with buttons and pockets. Since this model had neither buttons nor pockets, I had to add them. Buttonholes were knitted between the cables, and pockets of thin cotton fabric added to the sides.