Årets första Björnprojekt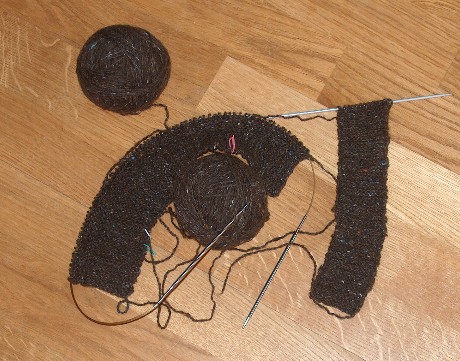 En bild säger mer än ord. Båda ärmarna till Charm är upprepade. Orsak: troligen rädslan att garnet skulle ta slut gjorde att jag hade stickat den väsentligt spändare än fram och bakstycken. Men över till roligare ärenden.
Två småsaker för björnprojektet har också blivit färdiga under januari månad. Det roliga med björnprojektet är att om man bara använder tillräckligt tunna stickor och tunnt garn kan man sticka enligt helt vanliga modeller! Vantarna på bilden nedan är stickade på stickor 1,5 mm och med Pirkka tunt garn. Vantarna har både estniska flätor och tvåfärgs stickning. De blev färdiga redan till julen, liksom tröjan stickad på stickor 3 mm med flätor och mouchers i ett ull restgarn. Sockorna på bilden har jag stickat i Pirkka tunnt garn och stickor 1,5 mm. Mönstret till dem är ur Nancy Bushs bok Knitting on the road, mönstret Denmark. Sockorna har exakt samma antal maskor som en normal socka, antalet varv är dock minskat!
Klocka och mobil som storleksjämförelse.

Det andra färdiga björnprojektet för i år är en schal gjord av det Kid Silk Haze som blev över fån min Birch schal. Mönstret är av Joan Scoggin. Stickor storlek 2,5 mm.
Schalen under arbete

Och här får Nelli demonstrera både julklappströjan, sockorna och schalen.
Klicka här för en bild bakifrån! Click for an other view!
A picture tells you more than words. The sleeves of Charm went to the frogpond. I must have tightened my gauge due to fear of running out of yarn, and they sat like glued to my arms. Enough about that.
The funny thing with the bear project is that if you use small enough needles and thin enough yarn, you can even use ordinary pattern. The pattern for the socks Nelli is wearing is Denmark from Nancy Bush's book Knitting on the road, but knitted on needles 1,5 mm and thin, thin Pirkka yarn. There are exactly as many stitches as in the original pattern, but not as many rows. The pattern for the shawl is by Joan Scoggin, yarn Rowan Kidsilk Haze and needles 2,5 mm. The mittens on the first picture are also knitted on 1,5 mm needles, and complete with Estonian braids and colourwork, yarn once again Pirkka thin.