It's been a hard week's weekend
This has been the first week of the autumn term at the university. I have, unlike earlier years, also signed up for and got accepted to several language courses. And language lessons give you homework. So this first week has already been a pretty busy week, and everything talks for more work later on when a second course in Finnish is about to start, and when I'll also get literature for next exam.
But over to the knitting contents.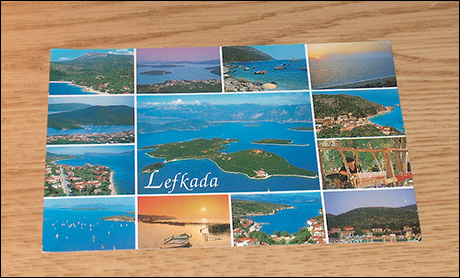 I have got a card from my secret knitting pal. She has been to Greece, and was kind enough to send me a card telling me how beautiful it is over there, and how kind the people are, the best inGreece she claims. Sounds like a pretty nice place, and the pictures are beautiful. Thank you, Salainen Neule Ystävä!
I have made some progress on the argyle vest. I was knitting so much late in the evenings that I totally forgot to take pictures, and this is the state of the vest now:
Yes, the vest is knitted and the steeks cut open. I had a slight problem with the steeks, and I knew it pretty much from the beginning. I made several swatches and tested the crochet steek method, but no way that I could get the steeks to hold. So my decision was to sew the steeks on machine, and then, in order to create a neat edge, and only for decorative purpose, to crochet over the sewn stitch. Like this: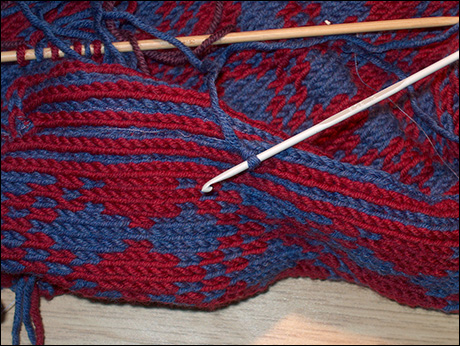 The stitches are safe, and the edge is neat, and the tension is as if I had used only the crochet method (I doubt there is a difference between my sewn steek and the crocheted, but if there is, and Eunny claims it is, then this is the same as the crocheted). Next step is now to pick up and knit some 350 stitches in rib.
These two guys are also ready to take their departure. Bye, bye helping bunnies, be good bunnies to the children you'll see.