The Anemois - finished!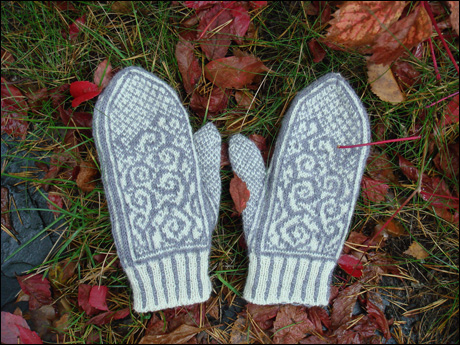 I'm ready for the cold days, or at least, my hands are. In my heart I hope for many warm and beautiful, clear autumn days to come, and I can very well do with a minimum of cold days. To be honest, whispering, I could even skip the snow, end of whisper.
The pattern of the Anemoi mittens is a delight to knit. I have said it before, and I have nothing against repeating myself: Eunny is a wizard when it comes to pattern making. And I like very much the asymmetry of the colour pattern. The Anemoi mittens were a fast knit, and a nice knit.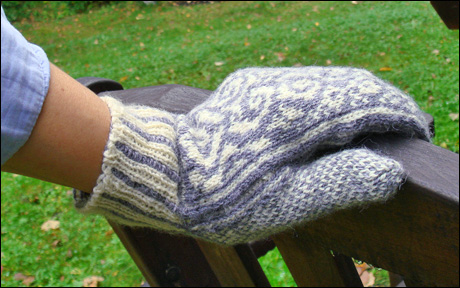 Project details:
Pattern: Anemoi mittens by Eunny Jang
Yarn: Vuorelma' s Satakieli in grey (957) and white (001)
Needles: 2,5 mm dpns.
Alterations: I like mittens that have quite narrow ends, and thus I didn't follow Eunny's decreases, but decreased on every row, and when I had 14 stitches left, that are the border stitches, I transferred the stitches to the inside and made a three-needle-bind-off there over 2x7 stitches. I find it very hard to graft in two colours, but if any of you have a good description on how to do that, please let me know. Grafting is more beautiful than the three-needle-bind-off, so I'm all for learning something new.